Exhibitionists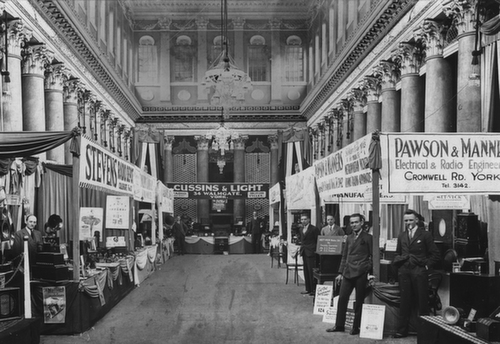 above : The 1928 Radio Exhibition held in the Assembly Rooms, York
CandL have always been exhibitionists. They never miss an opportunity to promote their company. This photograph taken of the 1928 Radio Exhibition in the Assembly Rooms, York perfectly illustrates the point. Candl had the only stand which was clearly visible wherever you were in the room.
In those days CandL were the new boys. Alec House's business had been running for over a decade. It had started in Stonegate where the House family lived over the shop and son, Stafford, related many years later that they used to play cricket in the street after school. Although business rivals the families were on very friendly terms. So much so that when Alec saw Regge's wife struggling to cope with baby Denys and assist her husband to set up the CandL stand he instructed son Stafford to take Denys for a long walk in his pram so that Queenie could concentrate on helping Regge.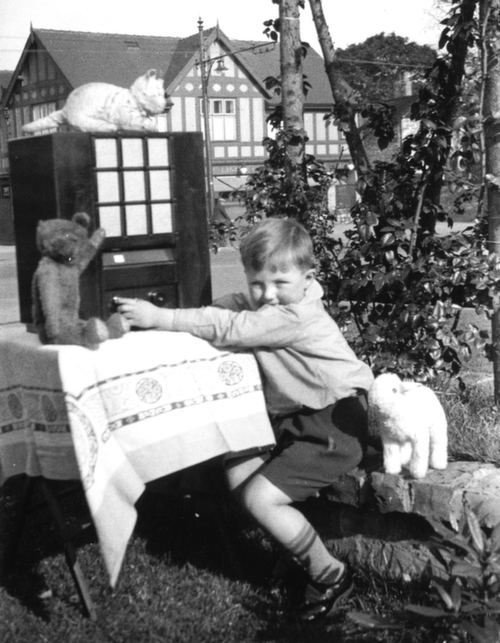 Moving on a few years this shot is of Denys with some of his cuddly toys plus a Murphy A3 radio, the first mains set manufactured by them and selling initially for 19 guineas, later reduced to 17 guineas.
The picture was taken on one of the small rose gardens on the forecourt of the Ariel House petrol station.
To publicise their being appointed sole Murphy dealers for York Pat and Regge went walk-about in the streets of York. Pat wore a huge papier mâché head of Frank Murphy whilst Regge accompanied him dressed as a dotty professor.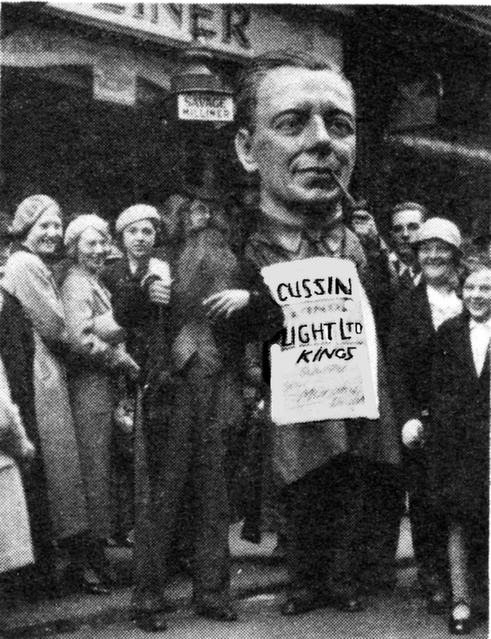 A further publicity stunt at this time was to send Murphy Radio a batch of large posters printed "ANOTHER MURPHY, CUSSINS & LIGHT LTD, King's Square, York" which Murphy's then pasted on to the cardboard cartons and wooden boxes containing product destined for CandL. (see below picture taken in 1935 with Regge Cussins and Gorge Berry, Centre).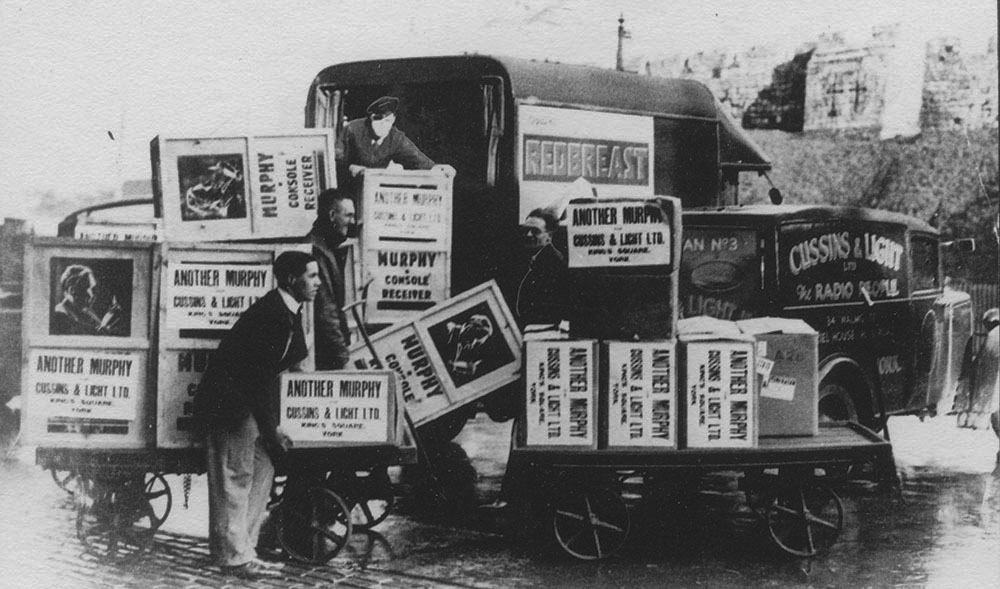 It was then arranged for a LNER van to collect the radios, etc from their goods yard and take them to the road outside York Railway Station where, in full public view, they would be transferred to a CandL van. Just try doing that today!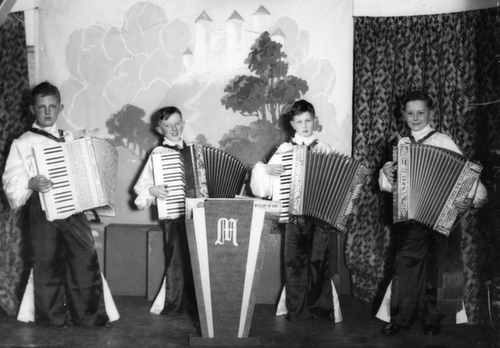 1938 saw the completion of the first extension to the King's Square shop and CandL decided to celebrate by putting on a show. On the second floor there was a fairy glade, Cinderella, her coach and Father Christmas whilst the top floor had been turned into a small theatre where the prime attraction was The Four Minor Chords – billed as the youngest accordion band in England. And who is that far left? Denys.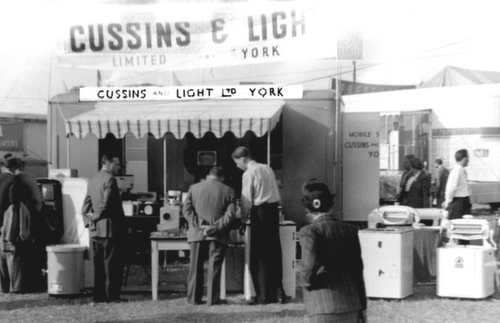 After the war ended in 1945 there was a great government inspired push to electrify the countryside. (Up to that time electrical distribution was mainly confined to the towns.) CandL saw a great opportunity to wire up and supply electrical gadgets to all the farms and country houses surrounding York. So they bought a large trailer and converted it into a mobile showroom which they towed to all the local agricultural shows.
Right : The CandL mobile showroom, 1949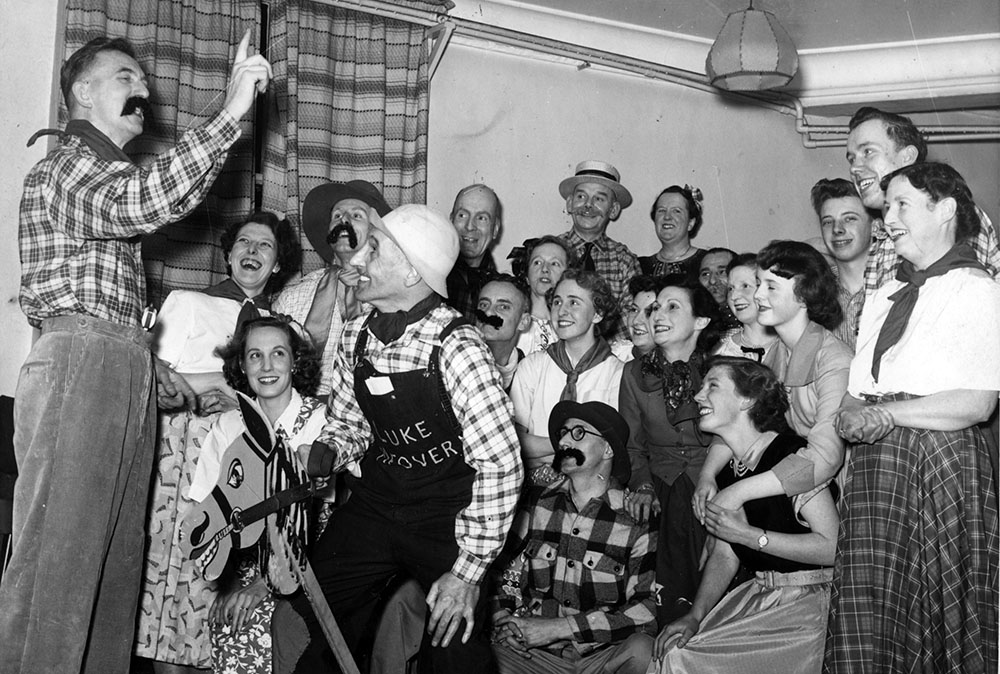 From the thirties to the late sixties annual staff dinner-dances were a feature of CandL life. In 1951 they decided to liven things up a bit. How they did this was related in the Murphy News (the house magazine of Murphy Radio).
"Those famous Yorkists, Cussins & Light, recently celebrated their "Thirty Years in Radio" with a supper dance for 300. Never at a loss for something original to put on at such events, they had three teams of eight giving a show of American square dancing in costume. "The Country Cousins" they appropriately call themselves.
Well known though Reg Cussins is, you would barely recognise him (unless you lifted up the moustache) as the "conductor" on the left-hand side of the photograph. On the extreme right is Mrs Cussins, while Pat Light's youngest daughter is in the white blouse in the centre, just above "Harold Lloyd". Sales Manager Howland was the Caller, "Luke Meover", complete with horse. Thirty years right well celebrated by the look of it."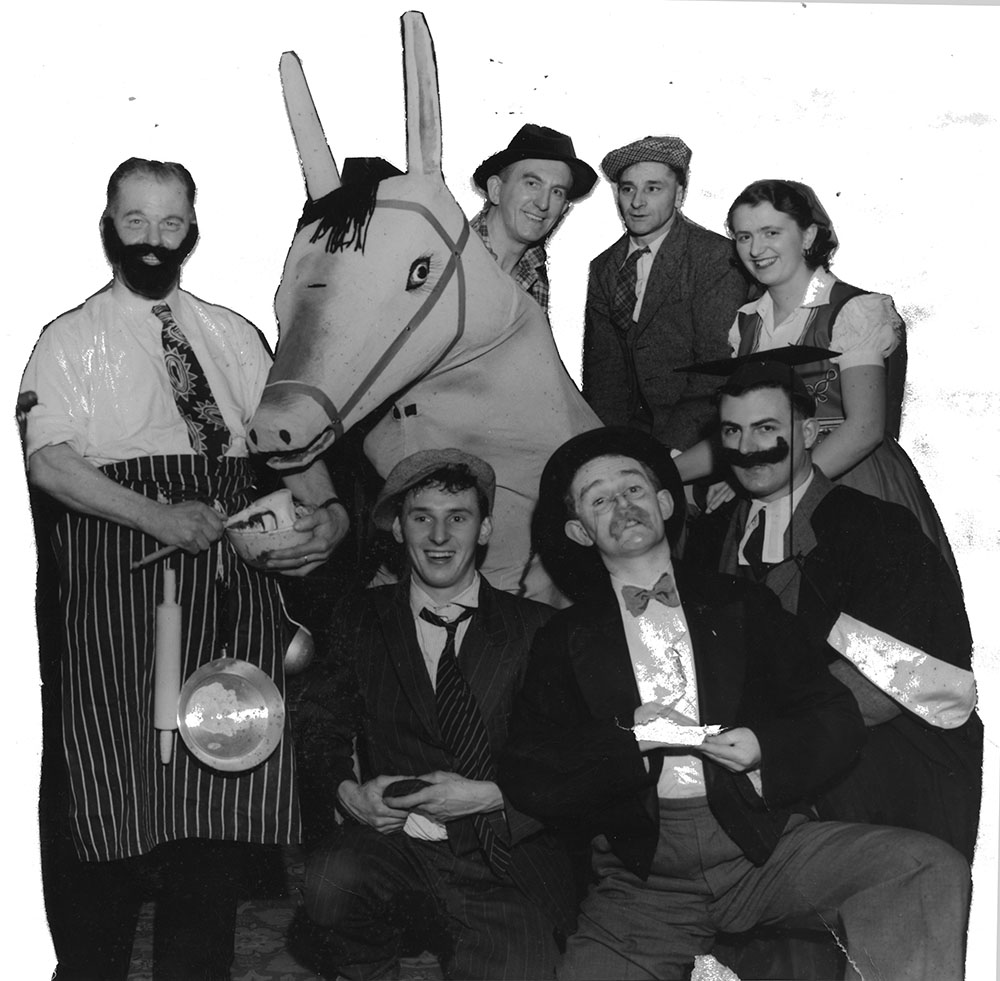 In 1953 the theme of the annual nosh-and-kneesup had the theme of fancy dress. Clockwise from top left is Pat Light, Muffin the Mule, Regge Cussins, Harry Bamber (works manager), Jill (Regge's daughter), Denys (son of Regge), Ian Cottom (friend of Ron) and Ron Thompson. Needless to add that this picture appeared in many trade journals.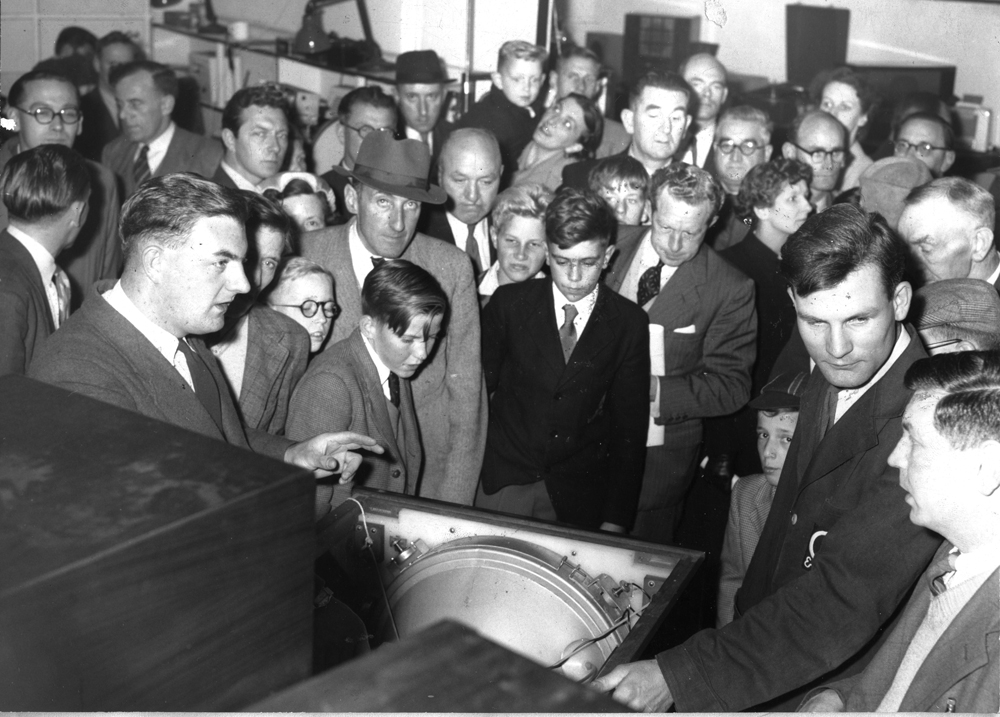 In 1956 CandL moved into their new service department in the Maltings on their Walmgate, York site and invited the public to come to see it. They came in their thousands. Indeed it was so successful that CandL decided to repeat the service open days the following year, with added attractions. With a bit of arm twisting they managed to borrow an American colour TV from a manufacturer's design department. Although they could only demonstrate pretty patterns it at least gave the public an inkling as to what colour television would be like. (It would be another decade before programme transmissions began in the UK.)
Above : Denys (left) and George Young, York Service Manager (right) demonstrating an American Colour Television in 1957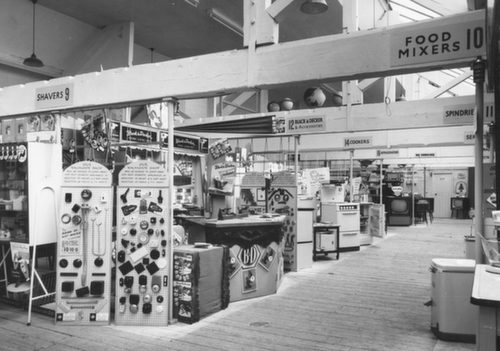 Another innovation in 1957 was a full scale Radio & Electrical Show on the top floor of the Maltings held in conjunction with the service open days.

1960 saw the wedding of the Duke and Duchess of Kent in York Minster. CandL provided the 23 inch Kolster-Brandes television sets which enabled the congregation in the minster to view the proceedings and they also filled the windows of their King's Square showrooms with TV sets so that any member of the public could watch the broadcast of the wedding.
In his early sixties Regge suddenly got the urge to start skiing. Wanting to get in some practice before hurtling down some snow covered mountain side he enlisted the help of several CandL enthusiasts to build a dry ski run from plywood sheets covered in coconut mats. Initially they erected it on the top floor of the Maltings on the CandL Walmgate site but the huge roof trusses limited the slope they could get. So they hired a nearby church hall and set up a fifty foot long run there. Having gained in confidence and with the county covered in thick snow they ventured out to some long runs on the Castle Howard Estate, courtesy of the late George Howard. Thereafter they felt confident to tackle the real pistes of Switzerland. The Yorkshire Post reported their exploits with a picture and short article on their front page in February 1962.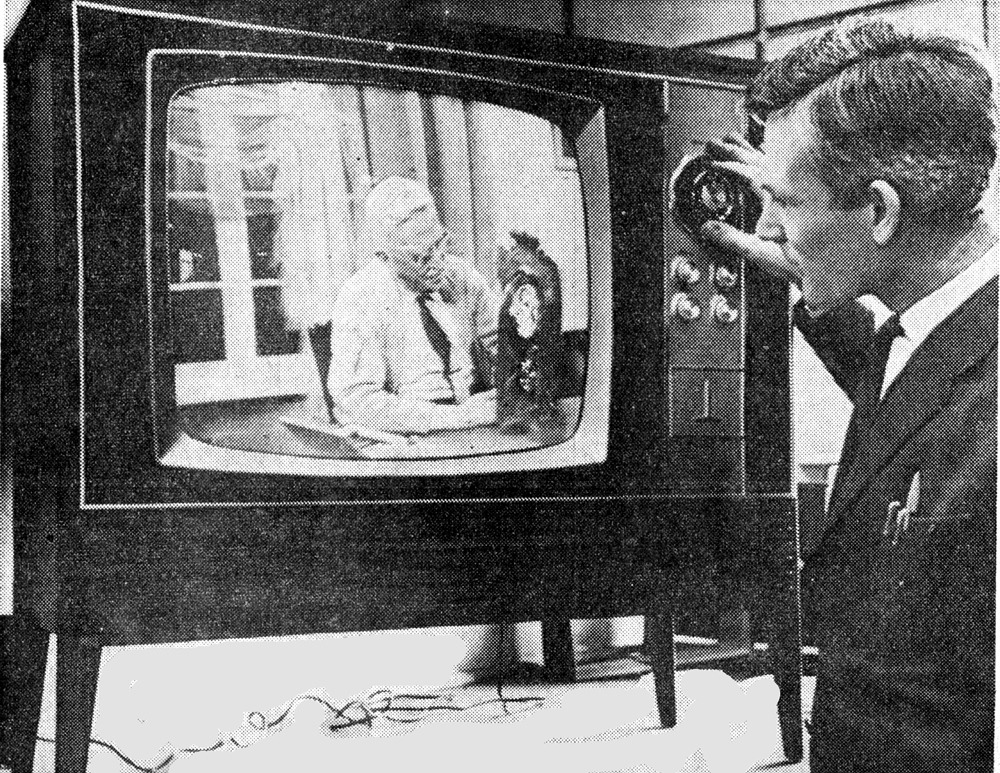 The February 17, 1967 edition of The Yorkshire Evening Press had a front page headline of "I watch colour TV in York!" The accompanying picture was of necessity in black-and-white. The reporter had, of course, seen the demonstration in CandL's service department. This was months before the colour service proper started. A couple of months later CandL gave a public demonstration at the Goodramgate Traders fair in the Assembly Rooms. Once again they had stolen a march on their local competitors.
Left : George Young, York Service Manager, adjusting a Thorn experimental Colour TV in February 1967
In March 1975 Denys received a telephone call which he was sure was a hoax/practical joke. A man who introduced himself as Dr Dearnaley, head of nuclear physics at the Atomic Energy Research Establishment, invited Denys to a conference on ionic bombardment at Warwick University and asked if he would be prepared to give a talk on his pioneering work in this subject. Denys answered with a provisional yes and Dr Dearnaley promised to send him full details of the conference. A large envelope arrived a few days later, obviously from AERE, but before Denys opened it he saw the GPO date stamp 1-IV-79 (April Fool's Day). However the contents were far too numerous and detailed for a hoax and Denys confirmed his acceptance of the invitation. As the conference date approached Denys' talk was off and on again several times as the organisers tried to fit in all the speakers into a crowded schedule. As he prepared to go to Warwick he was telephoned to say that his talk was off but nevertheless he would be welcome at the conference. So he went.
Checking in on arrival he was handed a note saying his talk was on and gave a time and date. Panic! He had no information with him on work he had completed twenty two years previously. Furthermore during that period he had been fully engaged in the two-family retail business, which was totally unrelated to ionic bombardment, on which his memory was more than a little hazy. There was only one solution to his dilemma. Make them laugh. It would make a relaxing half hour for the delegates who would then be more receptive to the serious business which would follow. So he would relate how he got involved in the research and various amusing incidents during that research. This is a précis of that tale in Denys' own words.
"I left Cambridge for the first time in 1947 and went to work at EMI Research Laboratories in Hayes, Middlesex. After a year there, and four years after leaving home in York, I got very homesick and decided to apply to do a PhD at Leeds University Whilst on holiday at home in York I went over to Leeds for an interview, was accepted and scheduled to start in September of the following year, 1949. Back at work I told my immediate boss of my intention. His immediate reaction was "Dash me. Is there a university in Leeds? Why don't you go back to Cambridge?" I told him I wanted to live at home again (I could easily commute to Leeds as many of my old school friends did), but he persisted. His office was next to my lab and every time he got tired of doing his office work he would come into my lab and harangue me about returning to Cambridge. I got utterly fed up with this and devised a plan which I was sure would shut him up – permanently.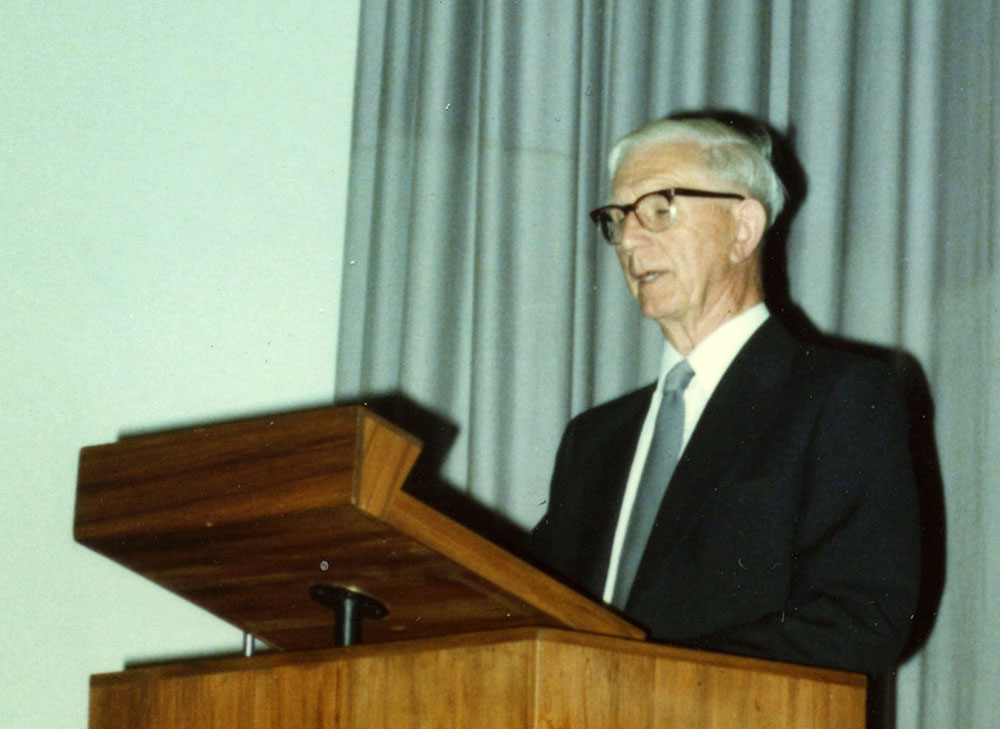 I would write a very abrupt, rude letter to Mr Oatley (later Professor Sir Charles Oatley FRS OBE - pictured right in 1984 addressing guests at his 80th birthday celebrations), who would be my director of studies should I return, saying I was going to start my PhD research in October 1949 in his lab, so he better have a place allocated for me and have all the equipment I would require. He would then surely write back saying he would never have such a rude, uncouth individual as me in his laboratory. It all went awry. Mr Oatley, "Uncle" as we all knew him, although no one dared call him that to his face, wrote back asking when it would be convenient for me to visit Cambridge to discuss my requirements in detail.
I had to admit defeat. So I went up to Cambridge for a long discussion on what I was planning to do, which was essentially continuing my work on klystron valves. It was all arranged for me to start in October of that year. Then disaster struck.
On holiday, at home, I had a serious motorbike accident and my return was delayed until early December. During my convalescence "Uncle" wrote to me to say that someone who had been doing research into the manufacture of semi-conductors had left prematurely and would I like to take over and continue the work. Big Head said – yes. Legend has it that said person, J B "Ian" Gunn (the inventor of the Gunn diode) had spent too much time racing his motorbike at Silverstone and it had been suggested to him, in the coded manner that Cambridge uses, that maybe he would be happier in a different environment. At this point in my talk an American called out, "Yeah, he's still as nutty as a fruitcake, got a 16 inch centre lathe in his living room". (He finally retired from motorbike racing aged 71.) The audience collapsed in fits of laughter.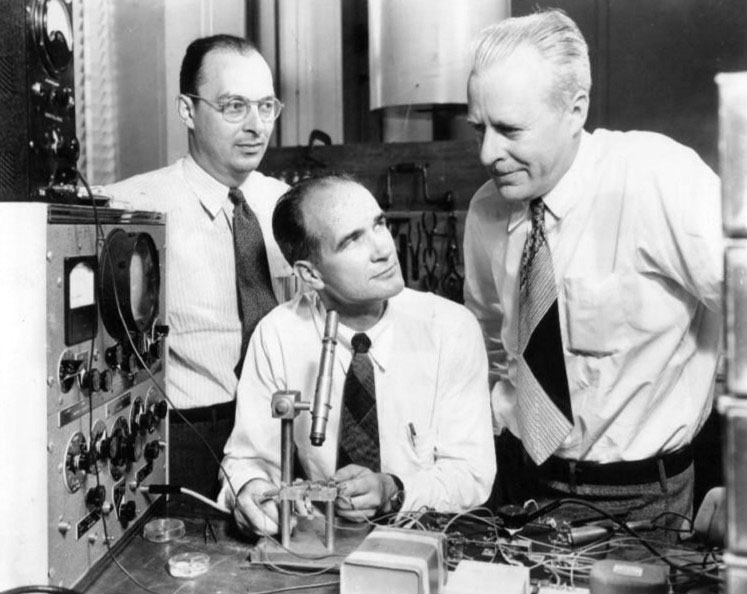 A little later in my talk I said how privileged I felt to have met the three men¸ John Bardeen, William Shockley and Walter Brattain (see left - pictured at Bell Laboratories), who would be awarded the Nobel Prize in 1956 for the invention of the transistor. I went on to give my impression of the three men. Bill Shockley, who was born in London and went to America at the age of eighteen, always reminded me of an East End barrow boy. Extrovert and a bit of a wheeler-dealer. John Bardeen had the air of a New England professor. Quiet in manner, always listening intently to what was said and filing away those items he thought significant in the appropriate section of his brain. Walt Brattain was a roughneck who had all the attributes of a Mid-West farmer. At that point a veteran American shouted out, "Yeah, that's exactly what he's doing today, shovelling shit on his pig farm". That sent the whole audience hysterical.
After recounting a few more episodes from my time doing research in Cambridge I ended by saying that after three years research and thesis written I quit for a life in business where the rewards were possibly greater. From the ovation I got I guess that last remark struck a tender spot in their minds. I had not done what had been asked of me, but I had made a useful contribution by relaxing the delegates in the middle of a serious conference. The whole escapade got a half page in the Yorkshire Evening Press.
Wandering round the little seaside town of Negombo on the west coast of Sri Lanka in 1979 Denys and wife, Vera, were caught in a torrential downpour. They sought shelter under the canopy of a shop which turned out to be an electrical store (pictured, right) specialising in Panasonic products. Denys was carefully studying the window display when he was approached by the owner, Mr Samarasekerg, who asked if he could sell Denys anything. Denys told him that he was a Panasonic dealer in England and his interest was purely professional curiosity.
Denys and Vera were immediately invited into the shop for a long chat and refreshments. A very newsworthy incident and the trade journals agreed. In case you were wondering how Denys and Vera came to be in Sri Lanka, well they were there as guests of Indesit as a thank-you for technical advice.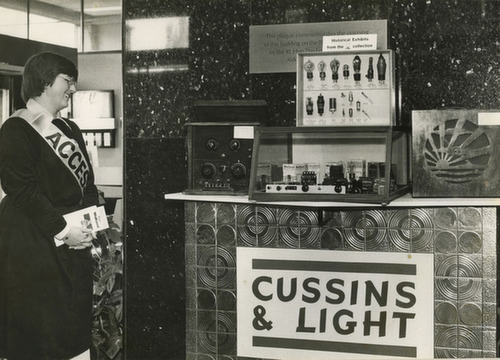 In 1981 the Midland bank (now HSBC) decided a good wheeze to promote their newly launched Access credit card would be to introduce some attraction to their banking hall which would make their customers linger awhile thus enabling their sales people more opportunity to entice them to take out an Access card. So they asked CandL if they would like to put on the first of what was hoped to be quarterly exhibitions in their Parliament Street, York branch. CandL obliged with a sizeable show; which lasted for two weeks, of electrical memorabilia in addition to current products. The bank seemed to think it was successful and published an article and pictures of the displays in their house magazine: whilst CandL were very happy with the extra sales it generated. The scheme soon petered out, presumably because of a lack of suitable exhibitors.
Sometime after retiring from CandL as their sales manager Reg Howland became a Chelsea Pensioner. In 1983 he wrote to Ron asking if CandL could supply the Chelsea Hospital with a portable sound system which could be wheeled around to give different groups of pensioners the opportunity to listen to the radio and gramophone records.
Denys got to work and made up a trolley incorporating Hitachi equipment which CandL had refurbished. He also arranged for Hitachi engineers, based at their headquarters in Hayes, to service the gear free of charge should it ever need attention. The trolley was duly delivered to Chelsea Hospital and the presentation was reported in the Yorkshire Evening Press as well as the electrical trade journals.
In 1984 Breck's Garage, then Saab car dealers on Malton Road, York, completed a substantial extension to their premises and wanted to celebrate with a gala opening. To attract the public Saab agreed to put on display, for the first time in the UK, their brand new 16 valve Model 900 turbo.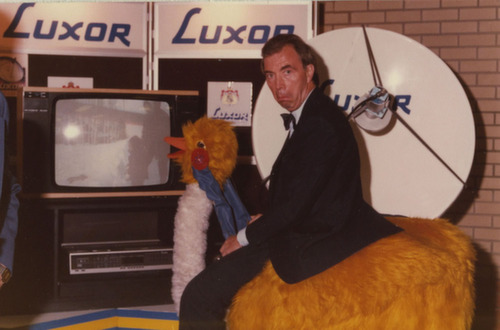 For entertainment they had Oswald the Ostrich and his minder, Bernie Clifton. Breck's also asked CandL if they would like to put on a display which perhaps had some relevance to Saab. After some head scratching, telephoning and arm twisting Luxor were persuaded to demonstrate their satellite TV equipment.
At the time the only operational geo-stationary satellite was the Russian Ghorizont 1. There were two problems. The satellite's aerial was focussed on Russia, so the signal in the UK was weak and Russian programming was erratic and unpredictable. Nevertheless everyone was prepared to give it a go.
There were many reasons for choosing Luxor. They had all the necessary gear, CandL sold their televisions, industry statistics suggested they were the most reliable colour TVs in the UK and they also manufactured the electronics for Saab cars and aeroplanes. On opening night the Russians obliged by transmitting a whole evening of programmes giving some York citizens a taste of satellite broadcasts years before any British channels became operational.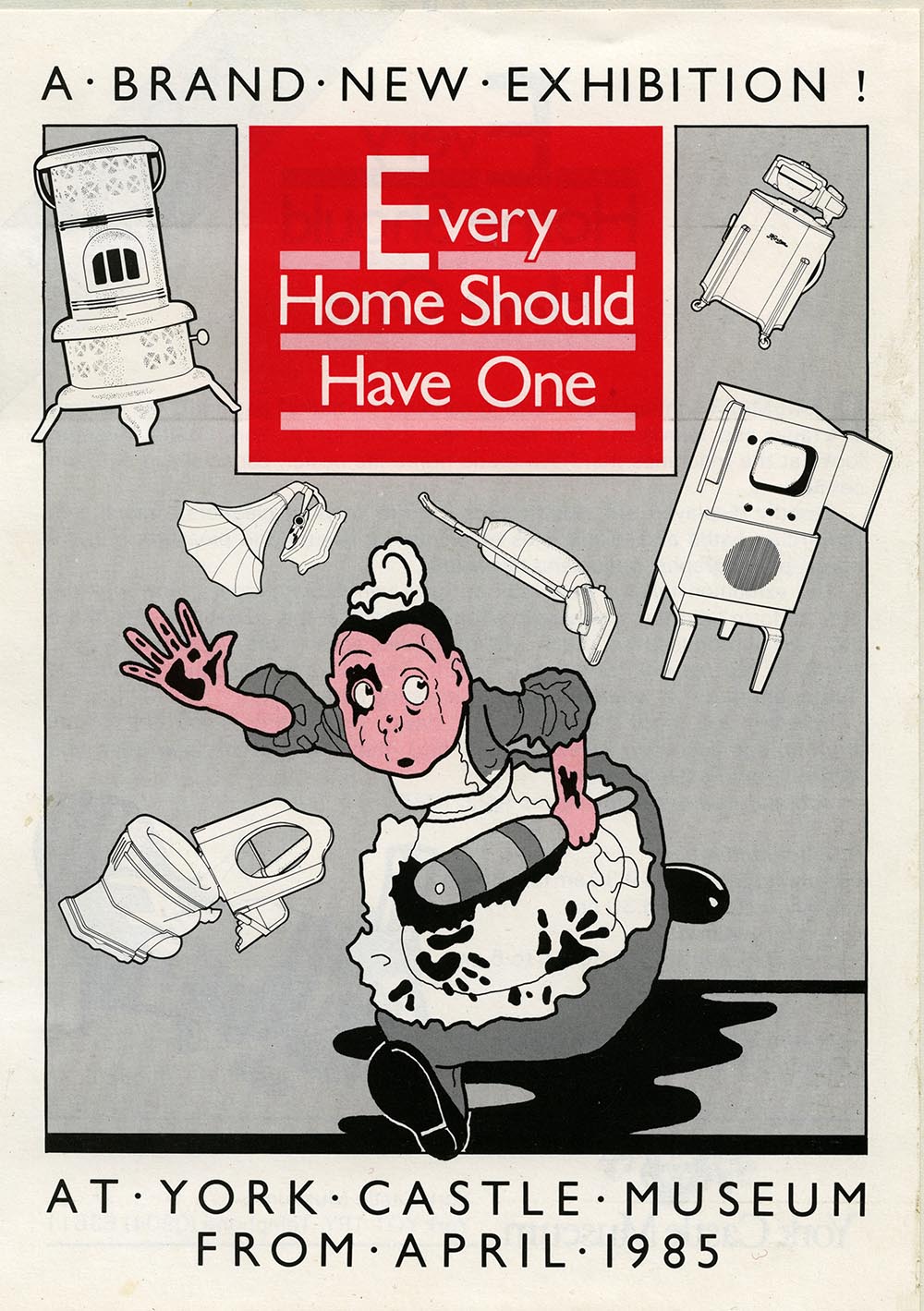 From the 1940s Candl collected electrical items which customers had part-exchanged or just discarded but which they thought were rather special. By the 1980s these items filled a very large room over the Walmgate shops. Occasionally some of them were put on display as part of an exhibition but by and large they remained hidden away from public view. Then CandL heard that York's Castle Museum were planning an exhibition of domestic electrical gadgets so they offered the museum any items which would be of interest/use to them. The museum were very happy to accept the offer and the items they took formed the backbone of an exhibition which opened in April 1985. The remaining items were given to an avid vintage radio renovator and collector.