Nuggets & Recollections
Some Links and a few lesser-known facts.....
In 1948, Cussins and Light co-founder, Regge Cussins, obtained the first television licence in the York area. It cost £2.00.

Contrary to popular myth, Cussins and Light never sponsored York City Football Club. They did, however appear on the perimeter boards at Bootham Crescent many times.

In summer during the 1930's CandL set up camp in two ex-army bell tents in a field next to Sandsend railway station. Queenie (Regge's wife) and two children, Denys and Beryl, stayed in one whilst young unmarried male staff came in rotation for their holidays - all meals prepared by Queenie.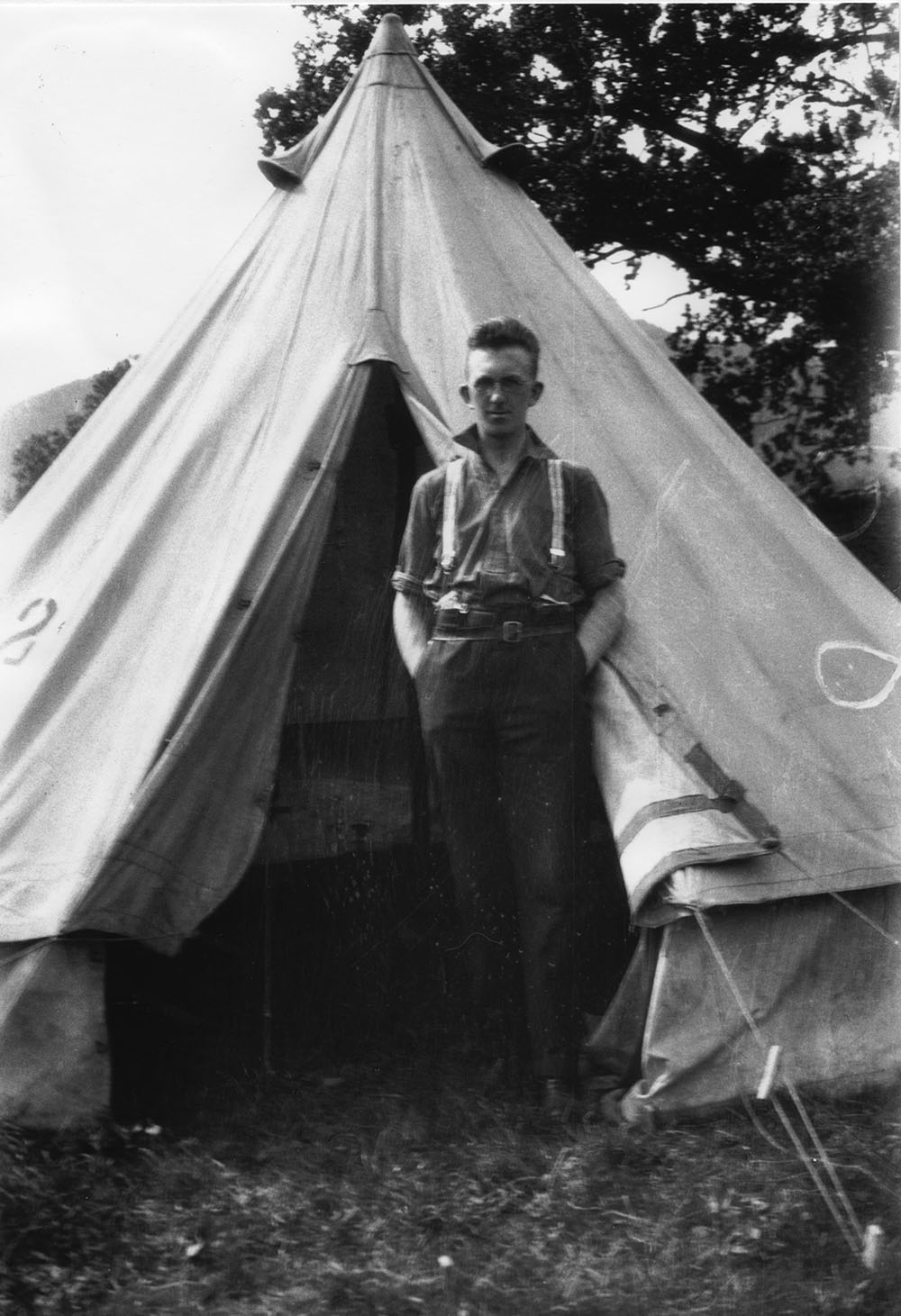 Panasonic redesigned their legendary 18" colour television, TC85 after making 10 million of then, following criticism by CandL.


after leaving the RAF in 1921 as a leading aircraft man, Regge was made a flying officer in the RAFVR during Worls War II as adjutant of the 110 Squadron, City of York, Air Traning Corps.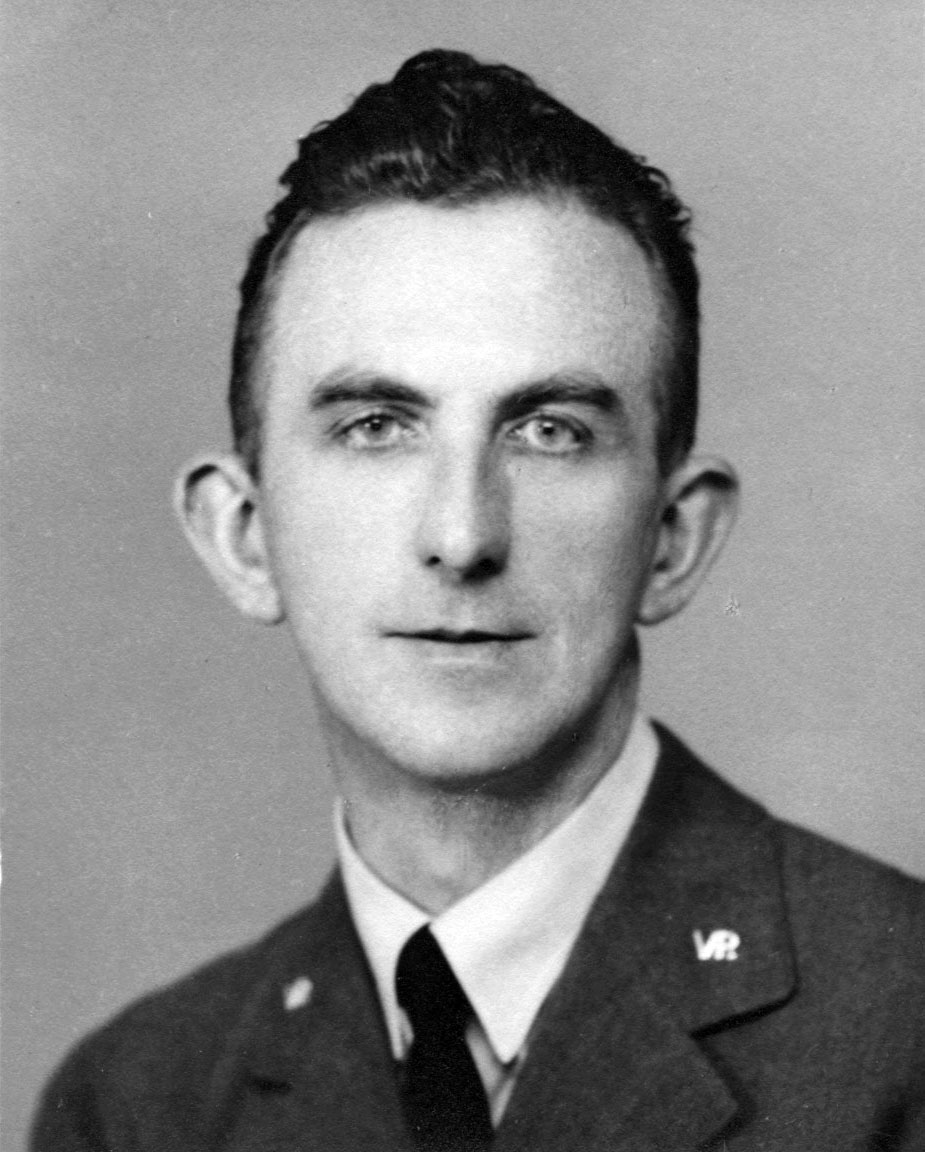 Thorn Electric (makers of Ferguson, HMV and Ultra) Research Director Ron Arnabaldi asserted that the philosophy on which their first range of Colour TV (the world's first large screen, fully transistorised sets) was based on an article written by Denys Cussins.


Whilst in London during the late forties Denys could earn as much money playing Jazz piano on a Saturday evening at a private party in Hampstead or Golders Green as he received for a whole weeks work as a research engineer designing a klystron valve (for incorporation in a Doppler radar).
The CandL Golden Book, written by Denys Cussins is listed in the catalogue of the National Library of Australia see http://nla.gov.au/nla.cat-vn497078

Although Denys was heavily involved in many events attended by royalty, high flying politicians and top brass military he never had a pass or identity card nor was he ever approached and asked to identify himself.


For much of the thirties, in order to attract and keep the best staff, Regge and Pat paid them more than they paid themselves.
Denys Cussins Recalls
Silence is Golden...
There are times when you should speak out, but there are other occasions when you should remain silent. Here are two examples of when silence was the right option. Both are taken from my days as a PhD student.
A fellow PhD student, name of Firmin, I never knew his first name, only surnames were used in those days, and myself were sent by Mr Oatley, our director of research, to a conference on all aspects of semi-conductor action at Bristol University chaired by the formidable Professor Mott (later awarded the Nobel Prize for Physics in 1977). Each evening the pair of us would compare notes to ensure we had accurately recorded the proceedings. One evening on ploughing through the mathematical explanation of a particular type of semi-conductor action given by the professor we discovered an elementary error in his maths.
Next day we went up to him at the end of the morning session to tell him of our findings. He was not best pleased to be told of his error by two PhD students, although he did accept we were right. Then Firmin began rubbing salt into the wounded ego by saying he did not understand how such an eminent physicist could have made such a simple mistake, at which point I grabbed hold of him and marched him away. I remembered the story which circulated at Nunthorpe School concerning the senior maths master, "Nick" Ford. It was said that whilst a PhD student at Leeds University his professor had given him a paper to read which he was due to present to a conference of mathematicians. Nick discovered errors in his professor's maths and gleefully told him so in his wickedly sarcastic manner. His professor was so incensed/embarrassed that he had Nick dismissed with an MSc. I was not going to allow the behaviour of a fellow PhD student to prejudice my chances of becoming a PhD.
As a PhD student I received a grant for living expenses of £300 a year from the Department of Scientific and Industrial Research. (My eldest grandson now gets almost the same per week for his living allowance as a PhD student.) So far as the costs of the laboratory and materials were concerned they seemed to be covered by money from the admiralty under some arrangement between them and Mr Oatley. Whatever the details, and I was never privy to them, we were inspected at intervals by a posse of naval top brass to confirm that the admiralty were getting value for money.
On one such occasion I was asked to demonstrate the work I was doing. Sitting on my stool, with my back to the admirals, I was alternately manipulating and noting measurements on a small cube of germanium and giving a running commentary on what I was doing. Suddenly one of the admirals asked, "What would happen if an atom bomb dropped nearby?" On the tip of my tongue was my expletive reply "Who the -------- would give a -------" when fortunately I turned round to see six serious faces expecting a serious reply. I cannot remember exactly what I said but I was never asked to leave.
On Jazz and Musical Interludes...
Once I had overcome the hurdle of being able to sight read music I have enjoyed playing the piano, not the normal pieces favoured by music teachers, but the songs made famous by the dance bands of the thirties and forties. There are two reasons for this :
They are good melodic tunes and

You can improvise on them, using them only as a skeleton on which you can impose you own interpretation, which can vary with your mood every time you play.
At Nunthorpe Secondary School I helped organise a small jazz band to play at school dances and end of term concerts, The drummer, piano accordionist, cellist (acting as bass player) and vocalist were all from my school form whilst "Joe" Foggin, a maths master and for two years our form-master, blew a mean clarinet.
The verdict of "Ted" Pragnell, the music-master, was "You are the only person I know who can make "God save the King" swing.
As an undergraduate in Cambridge I volunteered to help out at a local youth club and ended up playing for ballroom dancing classes. Over a period several club members joined in the playing and we soon had a small jazz band. We all enjoyed playing together so much that we used to continue playing long after the dancing classes were over. Eventually we were asked to play at the Cambridgeshire Youth Ball.
Moving to London to work at EMI I initially had no access to a piano. Then a lad I knew, who ran a big band in his spare time, called at my lodgings to ask if I would help him out. His band was contracted to play at a huge open-air festival dance in Hounslow (I was living in nearby Heston at the time) that evening and his pianist had been taken ill. Would I step in? Of course I would. I would have happily pounded the ivories for nothing, but he was offering good money. A few days later a chap who said he had been playing guitar in the big band called at my lodgings. He was a professional musician, specialising in playing at private parties in the most affluent parts of North London (Hampstead, Golders Green, etc.). Would I join him on the following Saturday night at a party in Golders Green? I would get at least £5 - which was almost as much as I was paid for a whole week's work as a research and development engineer designing a very large klystron (a radar valve). In the end I think I got £8 - which seemed a ridiculously large amount, bordering on the obscene - but I am a Yorkshireman.
For the next three years, doing my PhD research in Cambridge, I had no access to a piano except when I went home on holiday or down to London for the weekend. Nevertheless Peter (the youngest son of my Heston hosts) and I did manage to write some ribald verses which we performed at the Department of Engineering's Christmas Parties. Returning home in 1953 I was reunited with our family's baby grand. In addition there were weekly Saturday musical evenings at Fred's (an old friend from our days at Nunthorpe School) parents house in Bishopthorpe plus a few gigs helping out friends who had temporarily lost their pianists.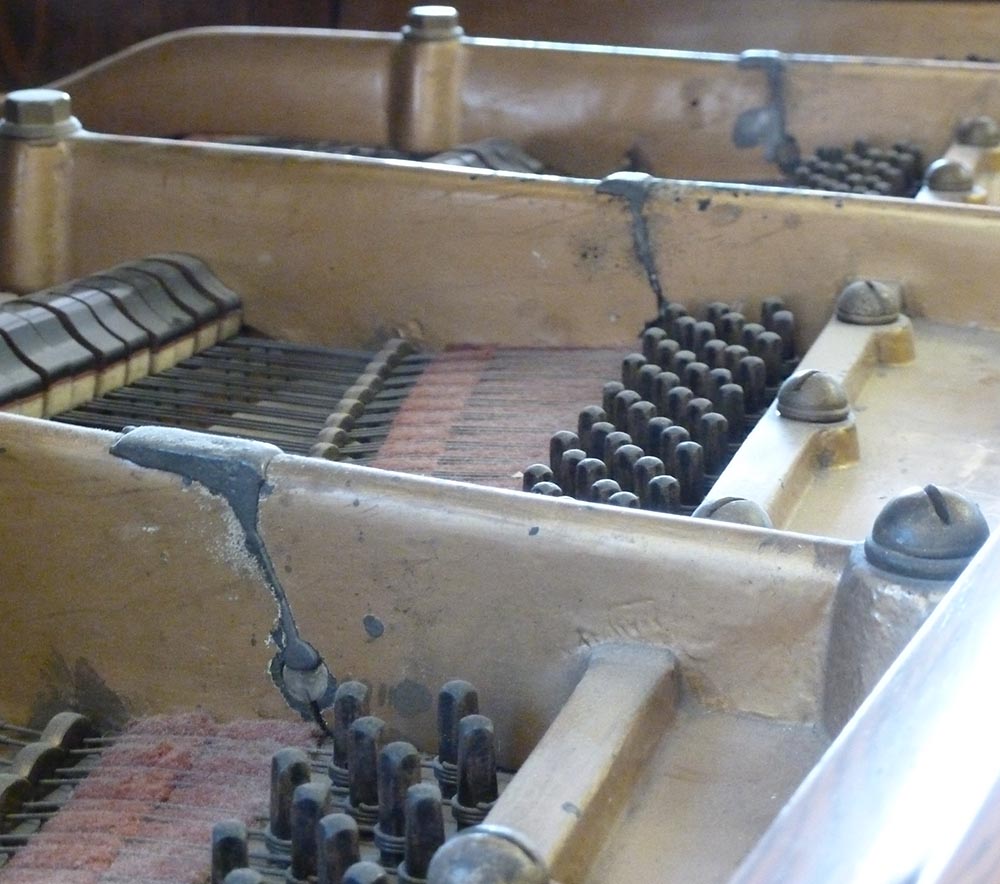 In 1961, having just got married, I was without a piano again. Having played for so long on a grand piano I wanted one, but they were expensive, particularly so because I had just paid for all the materials to build our new house. Then I saw an advert in the Yorkshire Evening Press for a boudoir (6 ft) grand - price £25. There was a catch of course - the cast iron frame had cracks in three of its webs and could theoretically collapse at any time.
Then I remembered that when CandL were making torches the dies which shaped various parts were not bolted in place when doing long production runs but held by pouring a special metal alloy round them. As the alloy solidified it expanded (whereas any normal metal would contract) and held the die rock solid. If I could drill some sizeable holes in the cracks and then fill them up with this alloy (if I could find any twenty years since it had been last used) it would hopefully lock the frame in place. So I took a gamble and bought the piano. It took six of us to partially dismantle it, load it onto a trailer and unload it into our house. A few days later I effected a repair and have been knocking the living day lights out of it ever since.
For the past few decades I have pretty well restricted my playing to home. However there have been a few amusing incidents in foreign parts.
The cost of a one week stay on half board at the 5 star Mirage Park Resort, Kemer, Turkey was far too low to resist. So we booked, paid and went. It was unbelievable-the grounds, our bedroom, the food in both quality and variety, the weather - all perfect. As we made our way through the reception area from our first floor bedroom suite to the huge, elegant dining room we noticed a mezzanine floor with bar and a trio playing with the pianist sat at a white piano. I just had to have a go on that.
We carefully observed for a couple of days noting when the quietist times occurred in the area and then I made my move. At 7 pm most guests were having dinner, whilst at 7.30 pm the trio began playing hoping to entice guests leaving the dining room into the bar. That gave a half hour slot during which I may be allowed to play. I approached the barman who said it was OK provided I played very softly. I started quietly but you cannot play "Basin Street Blues" and the like pianissimo. At 7.30 the trio arrived and began drinking at the bar, so I continued playing and they ordered more drinks. Then the hotel photographer came along and took a series of pictures. Eventually I had exhausted the repertoire I carry in my head and handed over to the trio, who were not best pleased to have to start work.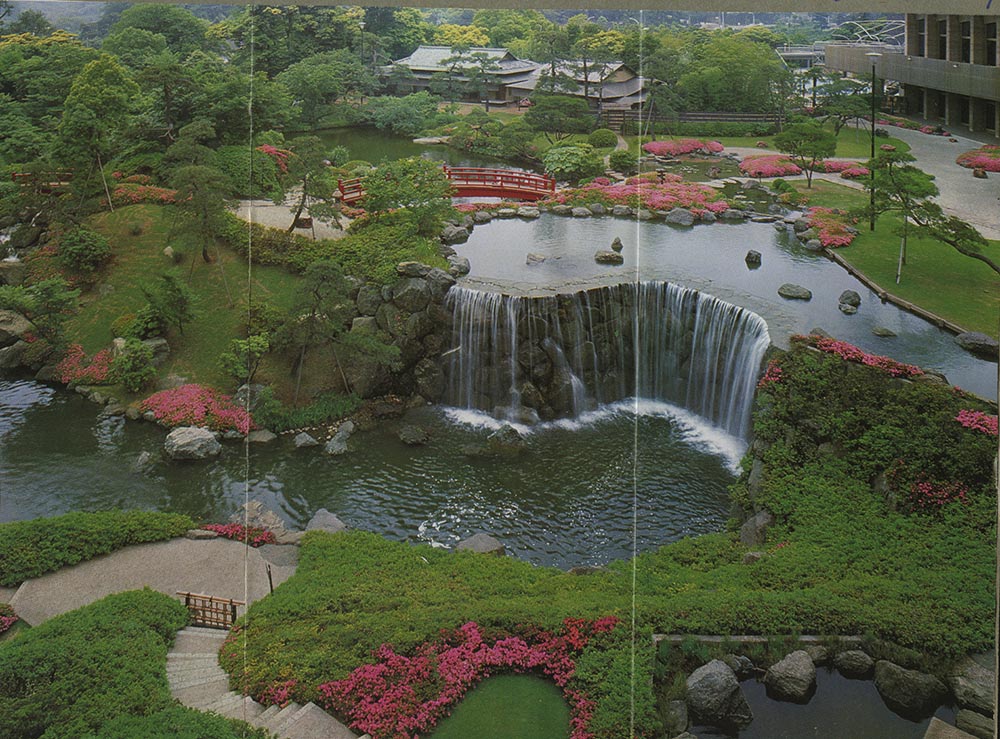 It was May, the month of the radio/TV trade shows and I was wanting to speak to Stan Fenner, sales director of Hitachi UK. I went to their stand and saw Stan chatting to two dealers, so I stood at a distance awaiting my turn to have a chat. Then suddenly he turned saw me and beckoned me over to his group. He began introducing me to the two dealers, "This is Dr Denys Cussins who runs a fabulous business in North Yorkshire. ......" "Oh I know Denys" interrupted one of them "I remember a night at the Otani Tower Hotel in Tokyo (Gardens, shown left) when Denys took over from the Japanese pianist, who could hit all the right notes but had not the understanding to make it sound like real jazz. That was a wild night when Denys got really wound up." "No" interrupted his colleague "Denys plays the organ not the piano. I remember a very wet afternoon in Spain at the end of a water softener convention with everyone sat around in a large conference room feeling miserable until Denys began playing the hotel's electric organ." "Guilty on both counts." I said.
We (Vera Mary and myself) were wandering through Hamburg's Botanical Gardens (see right) on our way to the television tower when we spotted a large restaurant in the grounds. It was not quite lunchtime but we thought it would be nice just to sit down for a while and admire the view before eating. So I went inside, placed our order and returned to the table outside which VM had selected. A few minutes later VM noticed a grand piano just through the window adjacent to where we were sitting and suggested I should play it to while away the time until the food arrived. Having obtained the reluctant permission of the manager I began tinkling the ivories.
A little later I spotted out of the corner of my eye the manager wandering around with a microphone which ended up on the piano. Very soon after that I sensed that my playing was being relayed round the gardens. I kept playing on and on and on....... Much later I glanced out of the window and saw large numbers of people eating and yet our repast was nowhere to be seen. Then the penny dropped. My playing had been used to entice people into the restaurant. The only way we were going to get fed was for me to stop playing. So I did and soon after we ate. As we were leaving the restaurant a surprising number of people called us over to their tables to say they had enjoyed my playing.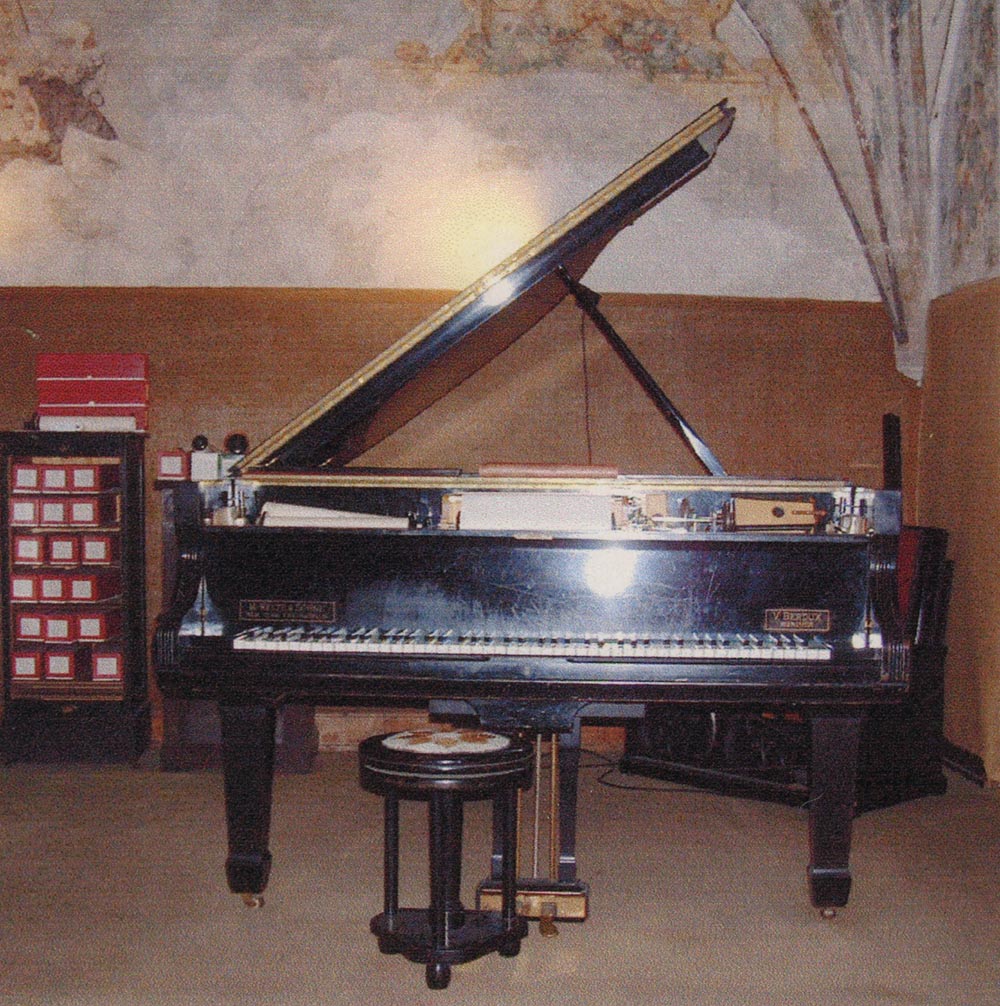 If you ever take a Rhine cruise you will inevitably end up at some stage in Rudesheim. It is very pretty and has much to commend but if you have been once that is it. When Vera Mary and myself found ourselves there for the second time we decided to go off the beaten track in search of something a little different. We found it in a small cafe run by Slovaks where we were the only customers. The food was incredible and the bill tiny. Refuelled we set off looking for adventure and found our version at the Museum of Mechanical Musical Instruments. It was not entirely our cup of tea because you could not wander freely around but had to join a party with a guide who herded everyone along. Nevertheless we paid the entry fee and joined a party of Germans.
Everything went smoothly until we got to the player-piano which, so we were told, was used by Strauss (pictured above). The guide then produced a piano-roll which supposedly had been made by Strauss, inserted it in the piano and proceeded to play it. When it had finished he asked if anyone would like to play the piano. Dead silence, so I called out from the back of the crowd, "I'll give you a chorus of jazz if you like." A very embarrassed guide reluctantly accepted my offer and so I played a chorus of "Oh, Lady, Be Good!". In an effort to bring matters back to near normal the guide asked his flock if they would like to him to play another piano-roll. From his audience came the reply, "No, but we'll have some more jazz."
In the early days of video cassette recorders there was intense competition between three formats - Philips, Beta-Max (Sony and Sanyo) and VHS (Panasonic and Hitachi). Although in essence all three were very similar the manufacturers would not compromise sufficiently to enable agreement on a universal format. The result was confusion amongst the general public and a bitter battle between manufacturers for supremacy in the marketplace. As part of their strategy Philips invited people they believed held influence in the industry to view their manufacturing facilities and be impressed, which is how I came to be flown to Vienna to be shown their nearby video cassette recorder factory. From the airport I was taxied to the centre of the city, to the Ambassador Hotel.
The exterior was a little dull, one could say tatty, but the interior was quite different. It took one back to the heyday of the Austro-Hungarian Empire. After signing the register in reception I was led up the sumptuous staircase to the huge square ballroom with five or more balconies which gave access to the bedrooms and a glass ceiling which appeared to be in the clouds. I was led across the ballroom to my bedroom suite with a pair of highly polished mahogany doors each at least 10 ft tall and 4 ft wide leading to an elegant drawing room and thence to the bedroom with every conceivable accessory. It must have cost tens of times the money to furnish as the most expensive bedroom I had ever previously slept in.
Crossing the ballroom next morning on my way to breakfast I noticed a full sized concert grand piano hidden away in a dark corner. I went over to examine it and I could not believe my eyes when I saw the nameplate - Bosendorfer, the make of piano played by all my jazz idols. I had never previously seen one in the flesh. I had to have a play on it. Over the following two days I devised a plan.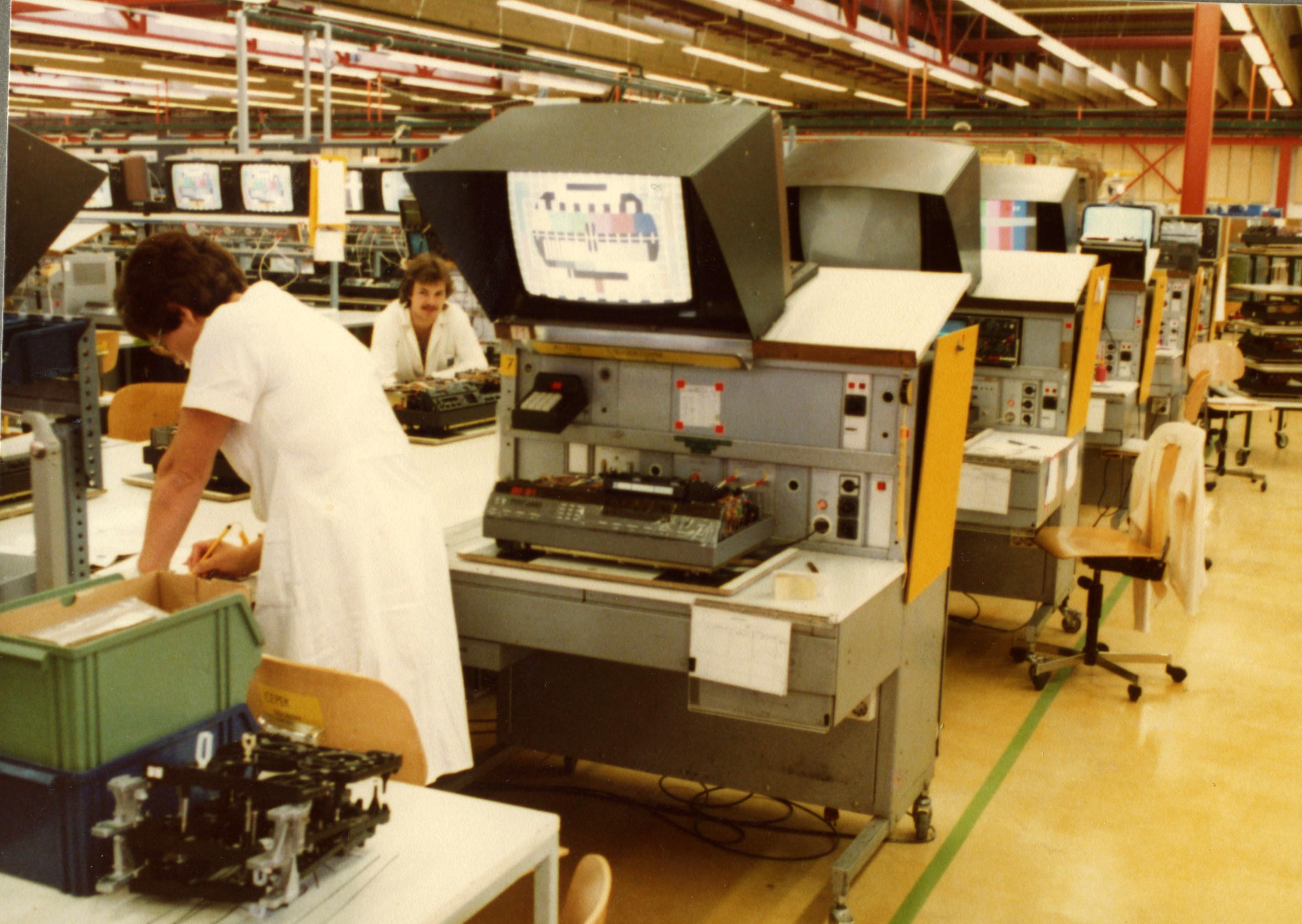 Towards the end of breakfast time and for half an hour afterwards the staff were fully occupied dealing with departing guests and would have no time to bother about someone tinkling their Bosendorfer. So at 9.15 am the next day I sat down to play.
From the first note it was a complete disaster, the piano was hopelessly out of tune. I continued playing for a while so that I could tell everyone that I had played a concert grand Bosendorfer, but what a disappointment! Then it was a return to the factory to see a bit more and take more pictures (see test bays ,left). Back home I had the films processed and pictures printed. Philips collected them and used them in advertising aimed at service engineers which tried to persuade them that the Philips system was the bees knees. It did not work, VHS won the battle, but not by a knockout. Today all three systems are distant memories as digital video is king, but for how long?
Customers
When we were retailing we kept the purchase and service records of some 30,000 households in the York area. These were active records. If no additional entry was made to a record for 18 months it was culled, otherwise our system would have been swamped. This gave us a pretty comprehensive sample of local humanity.
In the early sixties during a general chin-wag after the official business of a meeting of Minster Vision (a company formed to bid for the cable TV concession for York and whose members were responsible for over 90% of the electrical trade in York) had been concluded I happened to say that in general the richer the customer the poorer the reception our service engineers received. Our solicitor, who was company secretary for Minster Vision, was shocked and could not believe what I had alleged. (It has to be said that his wife was always welcoming and generous with the refreshments she provided.) Nevertheless every retailer in the room backed up my assertion. So here are a few personal reminiscences to support my claim, plus a few exceptions.
From the late fifties, whilst every department of CandL was closed on Christmas Day, from Boxing Day onwards until everyone was back at work three or four of us would go into work to answer any calls for service. On one particular Boxing Day a very distraught gentleman rang up to say that the record player he had bought for his daughter would not work. It was pretty clear that he had really stretched himself financially to afford something spacial for a very loved daughter. I was at his council house within the hour and a few minutes later had adjusted the auto-change mechanism to get everything working properly. I then got his daughter to operate the player so as to gain confidence in the machine. As I left the house her father tried to give me a ten shilling note, which I managed to refuse. I told him the repair was under guarantee, there was no charge. I almost told him that I was the boss and did not need the money, but realised that would only have caused acute embarrassment. He followed me to the van still trying to give me the note, then when I was settling down in the driver's seat he thrust the note under the seat. I departed feeling very guilty but at a loss to know how I could have handled things better.
When ITV came to Yorkshire in 1956 there was a huge extra load put on our service engineers to adjust/modify thousands of television sets to receive the new service. Everyone piled in to help. I did quite a few calls amongst them a visit to Ma B in Redeness Street. (It was street of terraced houses then, not the commercial buildings one sees there today.) Ma B had bought her television from a competitor but had taken out a maintenance contract with Telesurance, for whom CandL were an agent. Her TV was not the most reliable and so quite a few service calls had been made to her house. She had a fiery reputation and the outside engineers were not over enthusiastic about visiting her, so they decided I should convert her TV and suffer her aggressive manner, which is how, armed with all the necessary bits, I came to call on her. Her first reaction on seeing me was to ask why the usual engineer had not called. I told her that we were terribly busy with these ITV "conversions"and everyone was working flat out to get the job done. She told me to come in and have my tea. I reiterated how busy we were and how, although I would love to have my tea with her, I really had lots more work to do and could not afford the time. "You'll sit down and have your ——tea before you touch that ——TV"she ordered and I meekly obeyed. She was the salt of the earth!
For over a decade my office was part of the half landing of a staircase from our radio/TV service department to our secure store for large/expensive stock on the top floor of our Maltings building in Walmgate. I was beavering away there one day when I had a telephone call from our service admin manager. He had a very awkward customer in our Walmgate shop complaining about a service bill and demanding to speak to the boss. The manager told him he had full authority to settle all disputes and if he had to take anyone to his boss his ability to do his job properly and competently would be questioned. Notwithstanding the man insisted on talking to the boss. I told the manager to bring the customer to my office. A little while later I heard footsteps on the wooden staircase from ground floor to service department accompanied by the sound of a very heated conversation. Then the brouhaha, instead of increasing as they got closer, diminished and finally silence reigned again. Shortly afterwards I saw the manager returning to service office and called him up to my office to quiz him on what had happened. "Well,"said the manager,"as we approached your office the guy suddenly said that he worked at Rowntrees but had been on strike for some time. As a result money was tight and he was desperately trying to cope by spending as little as possible. He thought that he could get his bill reduced if he made a scene, but decided at the last moment that it was not an honourable course of action. He admitted the charge was fair and would settle the bill. You need training in psychology to understand customers.
I was in our Walmgate Service Shop in the early fifties when in walked the 1st Earl Halifax (a very distinctive figure who had been foreign secretary from 1938 to 1940 and then ambassador to the USA until 1946). He was approached by young sales assistant, Sid, a lad not long out of school and still in need of a good deal of training/polishing. "How can I help you ?" the young Sid enquired. "I should like this repaired." replied his lordship placing his Grundig radio on the counter. Sid reached for a job card and began noting details of the radio and its problems. He then asked for his customer's name. "Halifax"came the reply. Sid then asked for his address and telephone number. Having written them down on the job card Sid then proclaimed, "Right Mr Halifax, as soon as your radio is repaired and ready for collection we will phone you."The good lord took one step back and standing ramrod straight and looking Sid straight in the eyes said, "Thank you, young man" and walked out of the shop. That was a true gentleman.
The same could not be said of a certain Archbishop of York who got irate because a salesman (who incidentally was a devout Christian and a highly respected member of a non-Conformist Church) did not realise who he was.
When you are in retailing you accept a fair amount of aggro but sometimes it can get out of hand. Such was the case with a certain lady who lived on the outskirts of town. Every time we had dealings with her there was a scene. Things got so bad that in the end Ron Thompson wrote to her saying that as we seemed incapable of satisfying her demands it would be better for all concerned if CandL ceased dealing with her. (It was the only occasion on which we took such action.) So what happened? She got her husband to make all her purchases and whenever she had any item for repair her husband took it to his office in York from where it was collected by CandL. Subsequently all bills were settled promptly and in full. Everyone won!
Education
My first school was St Lawrence's Church of England Primary School just behind the church of that name in Lawrence Street. When i was about to leave in 1937 my mother insisted I should give presents to the head mistress and my teacher for getting me through the eleven-plus exam. This did not go down well with me as my mother expected me to pay for these gifts out of my tips from selling petrol at our petrol station, Ariel House. Notwithstanding I was taken by my grandmother by tram into the city centre and thence to W P Browns. Here my gran chose two embroidered handkerchieves as being appropriate items at a cost equivalent to a dozen 2oz bars of chocolate. I handed them over with ill grace to the two teachers on the day I left St Lawrence's.
Nearly two decades later I was waiting for a break in the traffic to cross the road in Pavement when a little old lady stood by my side suddenly said,"You are Denys Cussins aren't you?" I confirmed I was and then she said,"I'm Mrs X now but you knew me as Miss P. I was your head mistress at St Lawrence's School. I still treasure the handkerchief you gave me when you left the school. It was the only present given to me by a pupil in over forty years of teaching." I felt very humble and ashamed at my reaction when told by my mother to buy a present all those years ago.
Shortly after my arrival at Nunthorpe Secondary School in 1937 the whole of that year's intake were told to write an essay on what they did out of school. It was a crafty ploy on behalf of the education authorities to discover if the kids they had sent to the expensive to run secondary schools were serious students and, if not, should they be attending the cheaper to run higher grade or senior schools. One lad wrote that he helped out in his parents fish and chip shop whilst another wrote that he did some labouring on a farm on the outskirts of York at weekends and I said that I dispensed petrol, repaired bicycle punctures and generally assisted in the shop of the petrol station, Ariel House, where we lived.
All three sets of parents were sent warning letters saying that unless all these activities ceased their offspring would be removed from the secondary school. All three families ignored the threat. Subsequently the first lad became Professor of Veterinary Surgery at Edinburgh University, the second Professor of Pathology at UCLA, USA and I got a double first as a teenager followed by a PhD at Cambridge. Could the educational authorities have been misguided?
I used to imagine, quite naively, that all you had to do to get a PhD was to work diligently for three years on some project, write up an account of this work and hey presto you would get your doctorate. In December 1949 I was to discover that reality was quite different.
When I first entered the research lab and was taken to the space which my predecessor had occupied it was obvious that he had made little progress in his given task, so the first job was to sit down and design some gear. Things did not go well and I became more and more frustrated. I decided I must seek help. At 11 a.m. every morning all the research students, myself excepted, plus the lecturers in the electronics department met for coffee at a window in the lab overlooking the Backs (the grassy areas adjoining the river Cam). I thought this would be an ideal time to approach Mr Oatley. So I did. I told him my tale of woe and in reply he pointed to the tower of the university library, which you could see in the distance sticking out above the trees, and said, "All the printed material in the world is stored there. If the information you want is not there, then it does not exist. In that case your research could centre on discovering it". End of conversation. I was fuming, absolutely livid. When other students had approached their directors of research, including Mr Oatley, they had been given lots of help, encouragement, etc. Well, if that was the way he felt about me, balloons to him, I would go it alone and never ask again. With hindsight I realise he knew exactly what he was doing. All the other research students, with one exception, had had no practical or research experience. He knew my background and was quite certain that I was capable of solving my problems if I really applied myself. (Decades later he wrote in a letter to me that engineers were people who had been trained to get things done. This incident was one step up my learning ladder.)
The apparatus got designed and built and the experimental work got under way. Unfortunately it did not seem to be leading anywhere and I began to despair. I knew that I would have a breakdown if I did not have a breakthrough. Luckily it was the middle of summer and so I spent a week just lying on the banks of the Cam watching the punts drift by. Then I went back to work. In less than a week I knew I had a PhD. There was a great deal more to be done but I was on the right track at last. I remember leaving the lab that evening with a real spring in my step and singing to myself. Mr Oatley was following me and, obviously sensing my mood, enquired as to what made me so elated. I told him that I had just ensured I would get my doctorate. "That is for others, including myself, to decide", he said in very stern tones, but there was a very friendly smile on his face as he added "You must tell me about it sometime."
Pros and Cons of Selling Petrol
In the thirties, and for sometime afterwards, when your car needed filling up with petrol you drove to the petrol station where an attendant dispensed the quantity you had requested. This had to be in whole gallons (and occasionally halves). That was because the hand cranked pumps could only be set to measure in multiples of half a gallon and whilst the smaller of the two hands on the large dial (numbered 1 to 20) of a Wayne electric pump indicated whole gallons and the longer hand indicated twentieths of a gallon how could one calculate the cost of 3 7/20 gallons at 1sh 2 1/2 d a gallon in one's head ? It is not quick or straightforward even with an electronic calculator (which were not invented until nearly half a century later).
I must have started dispensing petrol at our Ariel House petrol station when I was about eight years old, and a lucrative sideline it was in those days. You often got a tip of 2d and occasionally as much as 6d. (2¹/₂p). 2d would buy a 2oz bar of chocolate and at Hodgson's newsagent and confectioner shop just across the road at the top of Melrosegate the choice was large - Cadbury's Fruit and Nut, Rowntree's Aero and Kit Kat and Needler's Orange Chocolate. The tips also financed my Christmas present fund. This was usually spent at Woolworths where everything was 6d or less in those days.
Dispensing petrol was not without its hazards. I remember one occasion, when I was still in short trousers, filling up a motorcycle and then returning to our living quarters behind the shop of Ariel House and my mother staring at me and looking horrified. One side of a knee length woollen sock I was wearing had been burnt away by the hot exhaust pipe of the motorcycle I had been refuelling. (I must have been standing too close to it.) Strangely enough I had not felt a thing!