Transport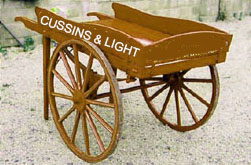 The first "transport" CandL possessed was a handcart of the type that has been used for centuries for moving goods around. However as the partnership thrived they could afford to become "motorized" in the form of a motorbike and "pigcart" as the open top container attached to the side was always called in CandL society.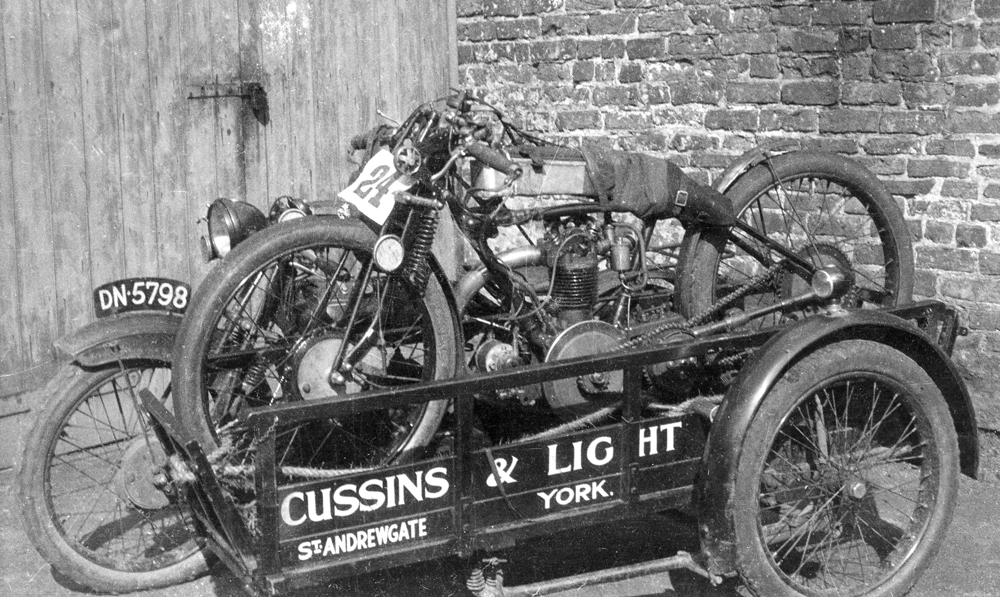 This arrangement continued for over a decade although the original bikes and pig carts were replaced by newer models as shown in the 1934 picture of Ariel House below.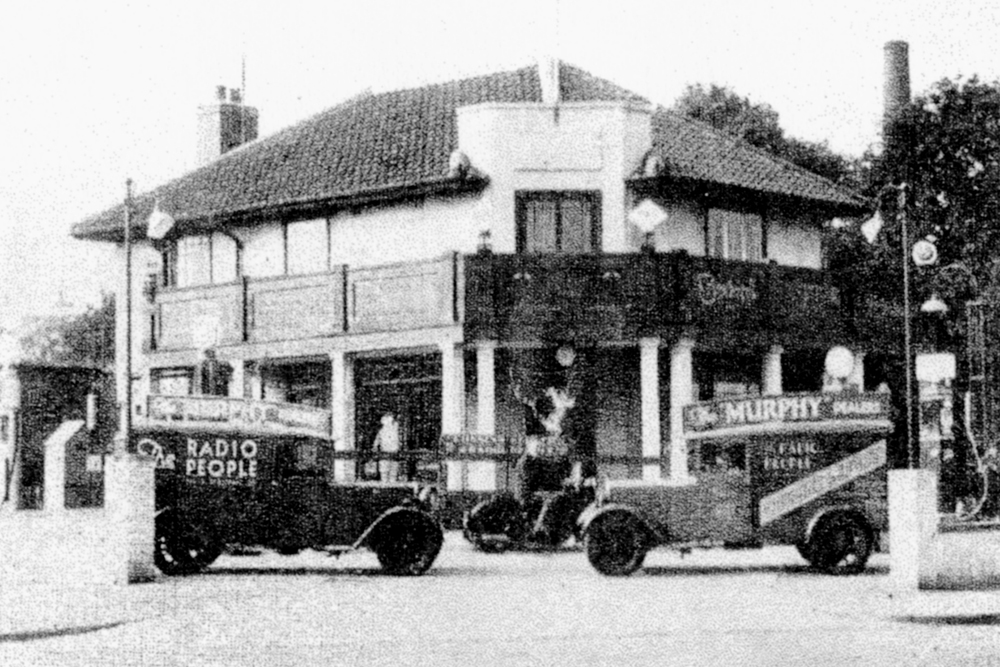 The pigcart has now grown in size somewhat and has a full length sign board advertising CandL and a ladder rack to which is strapped a dangerously long ladder.
Also in the picture are two Jowett vans which were used for radio service. Jowetts were made in Bradford by the Jowett Motor Manufacturing Co firm which started manufacturing cars in 1906. Commercial vehicles were introduced in 1922 and continued in production until 1953.
They always had boxer engines (horizontally opposed side valve twin cylinders, of 900 to 1200cc) and the bodies only changed slightly over the 30 years they were built. The 1950 specification makes interesting reading today. The basic price was £740 including taxes and for an extra £38 trafficators, dual windscreen wipers, rear bumper, running boards and some chrome parts were added. Top speed was 53 mph, fuel consumption around 35mpg and 0-50mph took 47.6 seconds. They were designed to carry voluminous loads at low speed round urban areas. For this they were probably acceptable, in the country even at a moderate speed they were "unpredictable".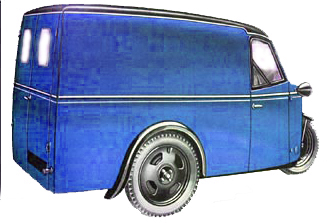 Joining the Jowetts, in the late thirties CandL fleet, were several James Handyvans (pictured left) – a three-wheeler made by the James Cycle Co Ltd of Greet, Birmingham. They were advertised as 12cwt "bulk capacity" vans. With an aluminium body mounted on a welded steel frame they weighed in at a mere 7.1cwt. They were powered by a V twin side-valve JAP (most famous for its motor-cycle racing engines) driving the rear wheels via a three speed gearbox, with reverse. A speedometer, electric horn, spare wheel and jack were all extras and not included in the basic price.
One unusual feature was the two petrol tanks, one each side of the dashboard, the idea being that when one tank was empty and you switched over to the other, you knew that a fill-up was becoming necessary. To carry out any service work required on the underside they were driven into one of CandL's Ariel House garages so they were around four feet from a wall and then pushed sideways to rest on the wall. Easy to do, effective and potentially dangerous – but Health and Safety had not been born then.
For several years after the end of World War II there was only a meagre supply of new vehicles. CandL acquired a very motley fleet of second-hand and government surplus vans and lorries together with a small number of "new" vans which were basically pre-war designs.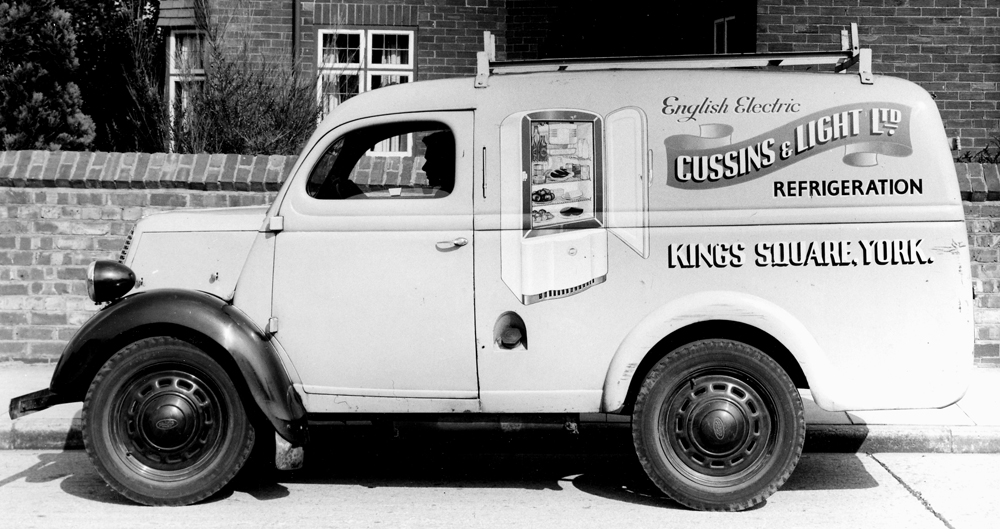 The star of this last category was unquestionably the Ford E83W 10 cwt van. Introduced in 1938 it remained in production until 1957. Its 1172 cc side-valve engine gave it a top speed of just over 40 mph. They were used by all sections of CandL - sales, electrical contracting, radio and electrical appliance servicing.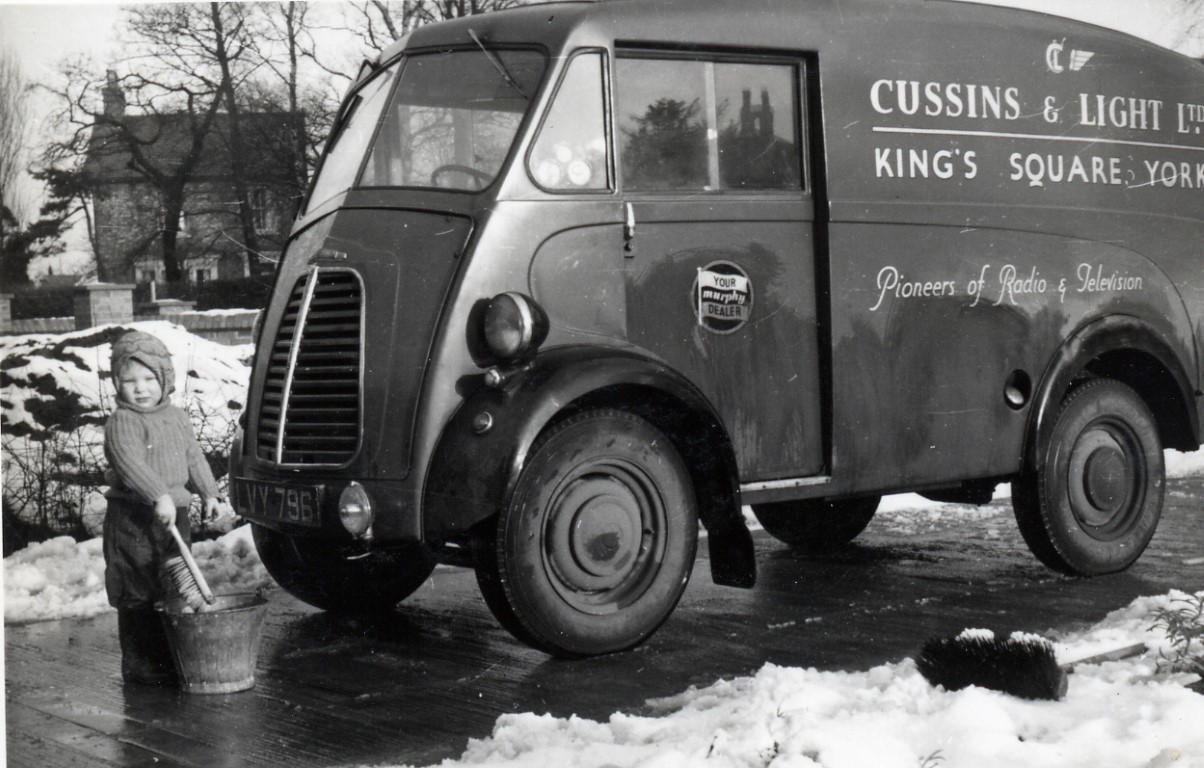 The Morris 10 cwt J-type van was manufactured from 1949 -1961. It had a 4 cylinder 1489 cc side-valve engine driving a three speed gearbox. The price (ex-works and in primer) was £375. Front and rear bumpers were an optional extra. The sign writing is quite austere, not at all CandL's usual style. The young gent about to give it a wash and brush-up is David Thompson (son of Ron and grandson of Pat Light) who is now boss of Eborlight. The picture dates from the late 1950s.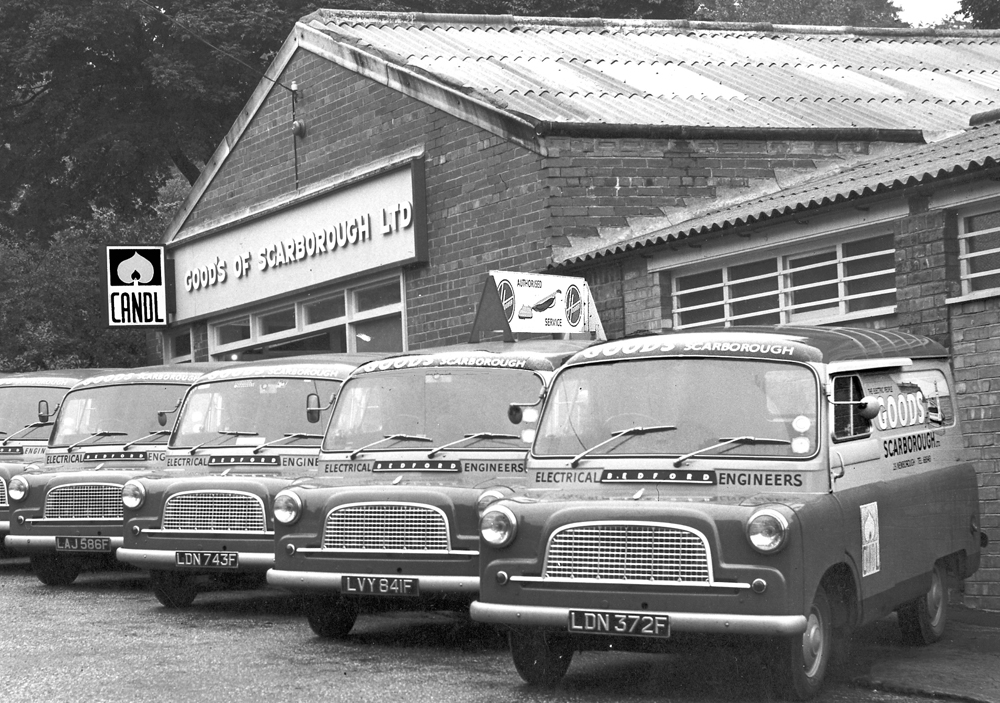 Next introduction was the 10-12 cwt Bedford CA (above), manufactured from 1952 to 1969 with only minor changes. The double wishbone front suspension made for a very comfortable ride. The sliding doors were a great asset when operating in town. The 1508cc engine was powerful enough whilst the quirky steering column gear levercontrolling the 3-speed gearbox took a little getting used to. They were pretty reliable although there were occasional breakdowns.
Denys recalls returning with Vera, his wife, very late at night from a trip to Birmingham to deliver a new washing machine when the engine suddenly stopped. They were miles away from anywhere with no houses in sight, no vehicles on the road and no such thing as a mobile phone (this was the early sixties).
Having pushed the van onto the grass verge of a nearby side road they settled down prepared to spend the night there, hoping that morning would one way or another, bring a solution to their plight. However a little while later there was a tap on the window. It was a motor patrol policeman who was wanting to know what they were doing. Denys explained what had happened adding that they were due to drive to Bedford in the morning to install the CCTV for the official opening of a wind tunnel at the Royal Aircraft Establishment. This seemed to impress the policeman who said he would get the local Vauxhall garage to come to see if he could sort out the motor and get Denys moving again. As by this time it was about 1am, Denys thought this was unlikely. However, half an hour later two men, obviously father and son, arrived in a van. Furthermore the father immediately announced the problem would have been caused by a cracked distributor head. He had one in his hand and ten minutes later it was fitted and the motor was running again. Denys paid them the very reasonable sum they asked for and motored, without any more trouble, back to York.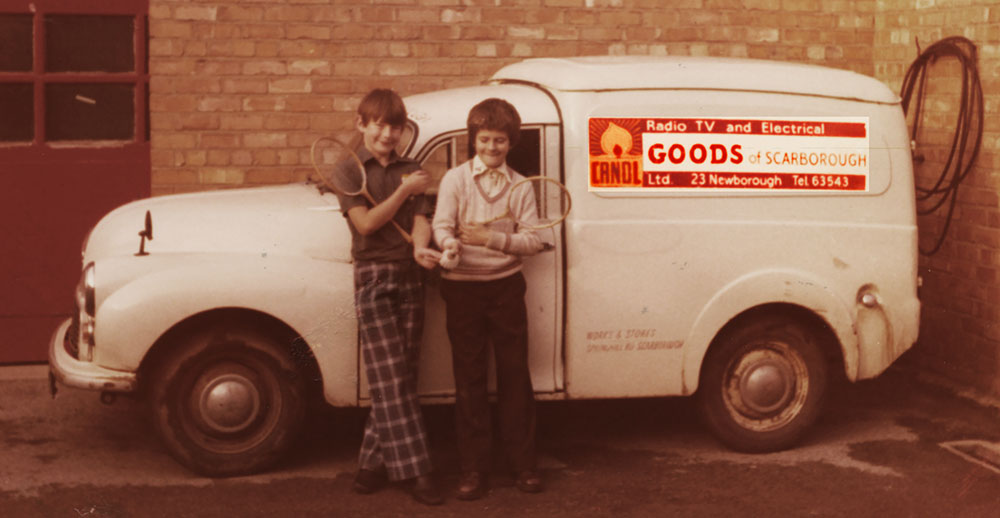 Morris Minor vans (see left), with minor improvements were manufactured for 23 years commencing in 1953. They were bought by CandL for their electrical contracting operations. They looked like a Morris Minor car which had been sawn in half just behind the driver's seat and had a slightly over-sized box stuck onto the back. It was a little more complicated than that. The car had a chassis-less bodyshell whereas the van had a welded box-section chassis. Nevertheless they drove like the car i.e., they were very well behaved.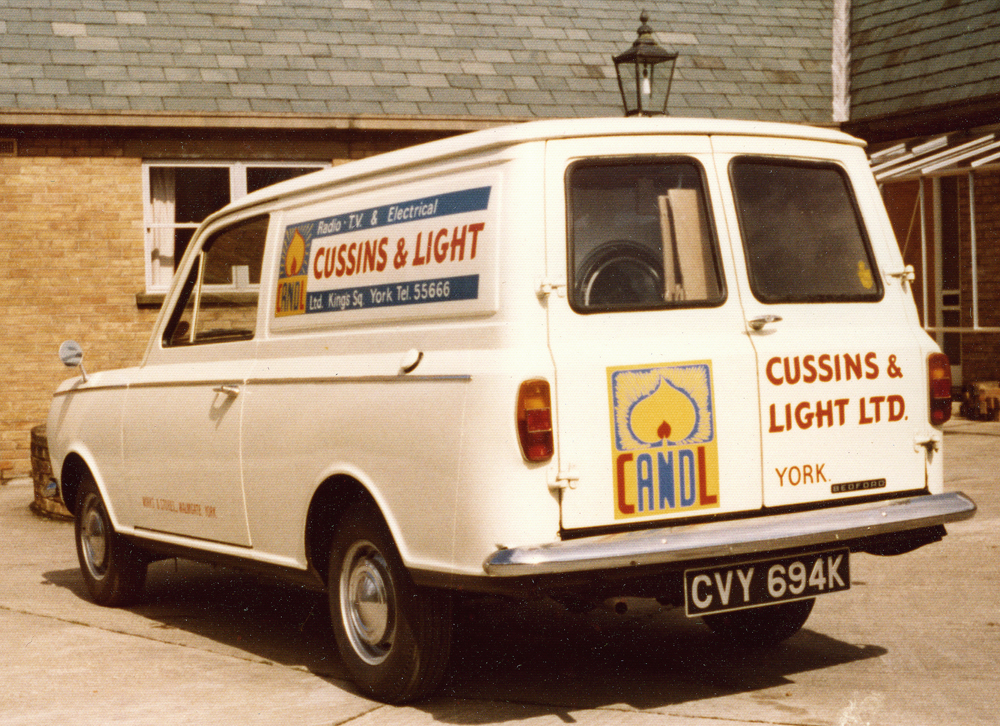 Over a period they were replaced by Bedford HA vans (right) which were introduced in 1963, production ending in 1983. They were based on the Viva car and had a more stylish appearance than the bolted-together-bits look of the Minor van. Very fit-for-purpose they were used by CandL for many years. Comfortable, reliable and spacious for a light van – what more could one ask for?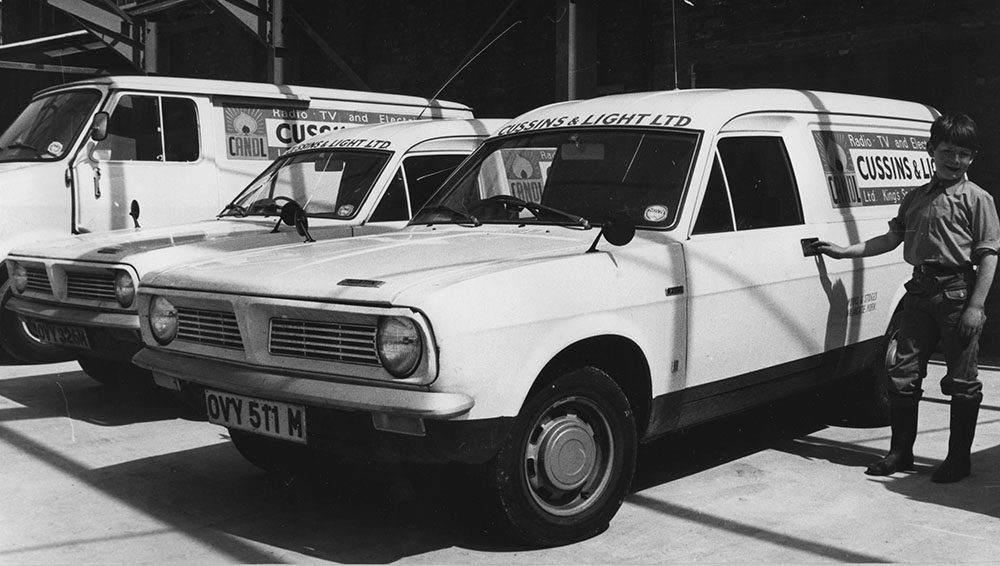 As the requirements for service vans changed, CandL began looking for a Bedford CA van replacement which was somewhat smaller and hopefully more economical. They settled on the Morris Marina van, (pictured left with a young Paul Cussins).
This van was based on the similarly named car, often described as "one of the worst cars of all time". Despite this, CandL had no real problem with them although at any one time they had around twenty on the road. Could this have been due to the TLC they received from CandL's motor chief, Brian Bulmer?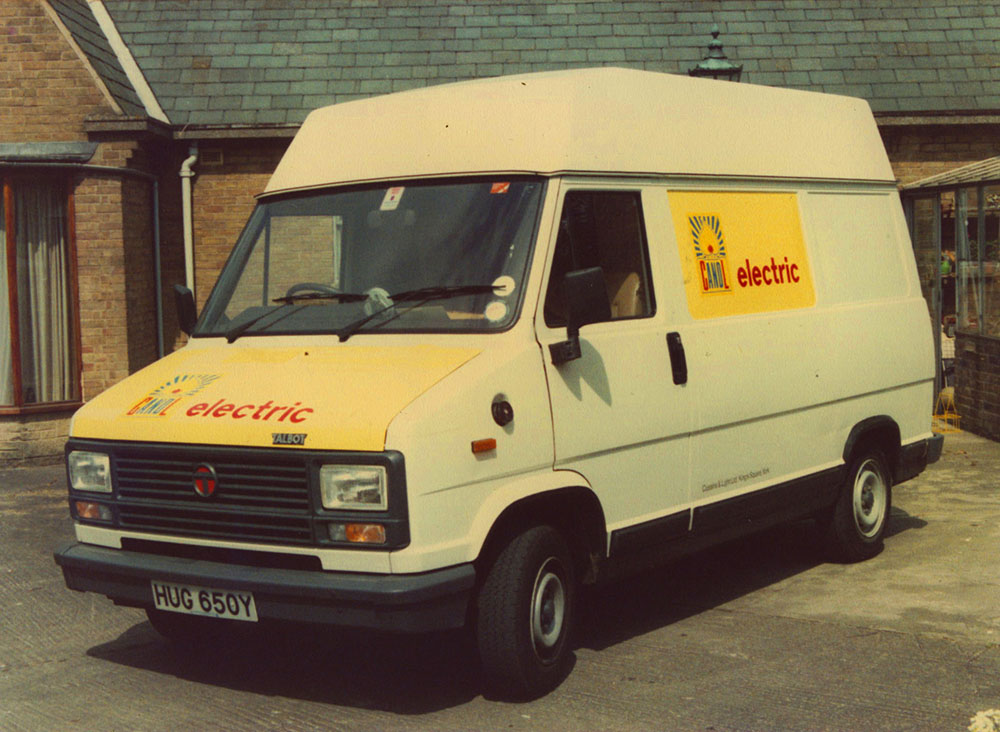 As business grew in the Scarborough and Whitby shops supplying them with product became a problem. A 10ft long trailer was commissioned from Richardson Trailers of Shipton-by-Beningbrough to be hauled by Denys's Saab car. When in due course this became inadequate CandL bought a Talbot Express van (pictured right) with high roof to pull the trailer. This combination was also used on the trips south to collect stock for reconditioning. It only misbehaved once. Denys was bringing the van and empty trailer back to York from Scarborough when in the outskirts of Scarborough the tow ball attachment broke in two. Fortunately the safety cable applied the trailer's brakes and it came to a halt without causing any problems for others. Denys quickly returned to the Scarborough service department to pick up a vehicle which could tow the trailer back and then drove the van to York to have a new tow ball fitted. All's well that ends well!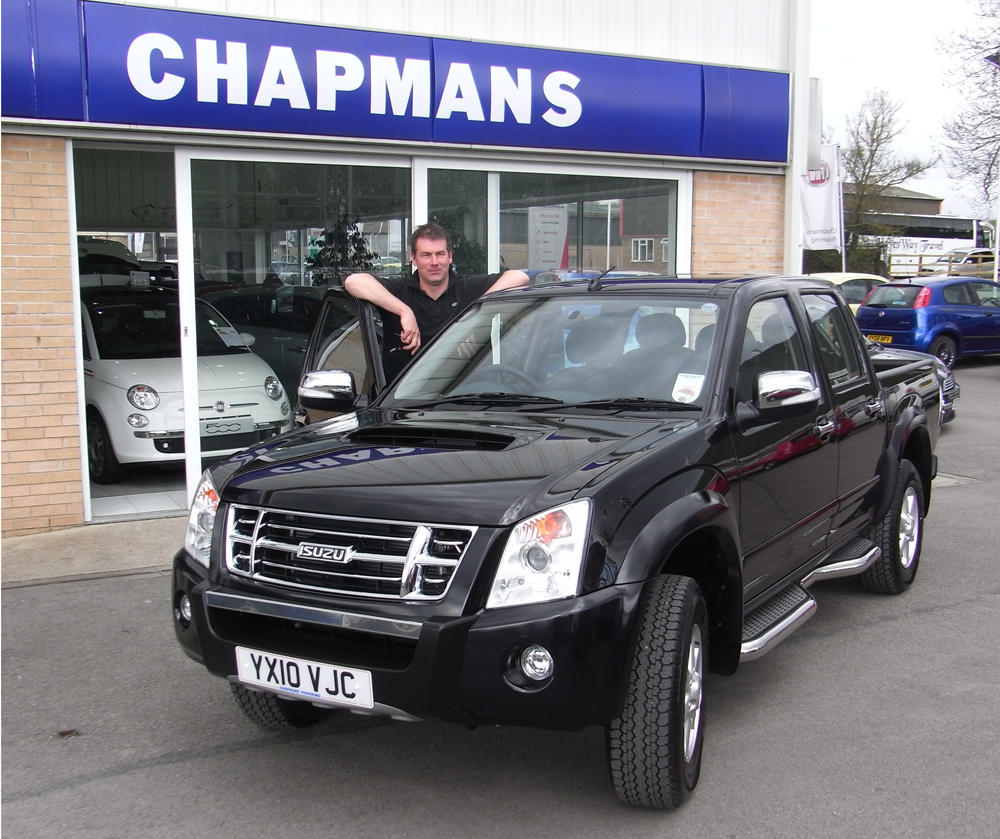 Initially Paul used Denys' cast offs for transport – a Renault Espace followed by a Renault Scenic. They did a good job but reliability was not good. Eventually Paul got a new set of wheels – an Isuzu four door pickup (see left). Isuzu originated in Japan in 1916 although it only changed its name to Isuzu (after the River Isuzu) in 1949. In 1919 it arranged to distribute English Wolseley cars in East Asia. By 1985 General Motors had a controlling interest in the company.
Any vehicle for Paul must be able to cope with his 6'7" frame. Features like being reasonably refined, able to transport loads of building materials, carry up to five people for relatively short journeys, reliability and economy are also desirable. The Isuzu seemed the best pickup truck to meet these requirements. His second Isuzu is now four years old and beneath the mud, which usually envelopes its body, is in very good nick. It leads a hard life but is well up to it.